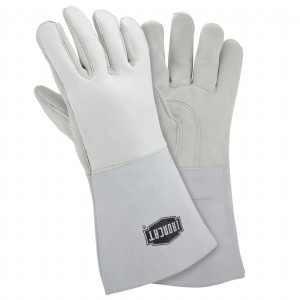 West Chester Ironcat 9061 Lined Elk Welding Gloves (one dozen)
Gloves Features
+ Elk stays soft under high heat while foam/cotton lining provides added insulation. Elkskin leather is a wonderful choice for working in cold weather. It is extremely tough and more durable and can even withstand barbed wire. Even if it is heavy duty, elkskin gloves are very soft and flexible which gives you freedom from movement.
+ Welted fingers and Kevlar® thread protect seams from sparks. Kevlar® is a high strength material and is a registered trademark of the DuPont Corporation. It is used and known for its ability to resist abrasion and maintain its integrity in high temperatures. Kinco uses this material on some glove styles for its superior protection and durability.
+ Reinforced straight thumb for superior grip. This design features a thumb that is perpendicular to the wrist and is useful in those areas where gripping is important. Although it may not be as ergonomically comfortable as other designs.
** Gloves are sold in increments of 12 pairs in each size only.