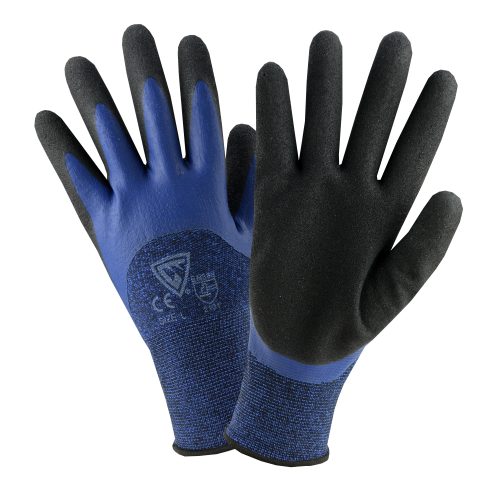 West Chester 713BLDD Blue Polyester Shell W/ 3/4 Blue Flat Latex and Second Coating w/ Foam Sandy Latex Gloves
Product Description
Ideal for handling and cleanup of abrasive parts and materials, demolition, masonry and tile, metal fastening, and assembly.
FEATURES
Seamless knit polyester shell offers increased comfort, finger dexterity and breathability
Latex sandy coatings are impermeable providing an elevated grip in dry and oily conditions, infused with thousands of tiny suction cup pockets that create a vacuum effect that dispenses fluids away on contact
Knit wrist helps prevent dirt and debris from entering the glove
Color coded hems for easy size identification
EN388 RESULTS: 2131
LINER MATERIAL:
 

POLYESTER

Polyester: Polyester is a synthetic fiber that offers good abrasion resistance and an amount of chemical resistance.
COATING:
 

LATEX

Latex: Latex is a natural rubber that is flexible, tough and durable, delivering a high degree of resistance to snagging, puncture and abrasion. Latex is water-resistant as well as resistant to protein-based oils. Latex is not recommended for jobs that involve contact with hydrocarbon-based oils or solvents.
GRIP:
 

SANDY

Sandy: Premium Sandy finishes enhance abrasion and cut protection while providing excellent protection in wet and rugged applications.

APPLICATIONS

• Assembly • Construction • Material Handling • Refuse Handling • Landscaping