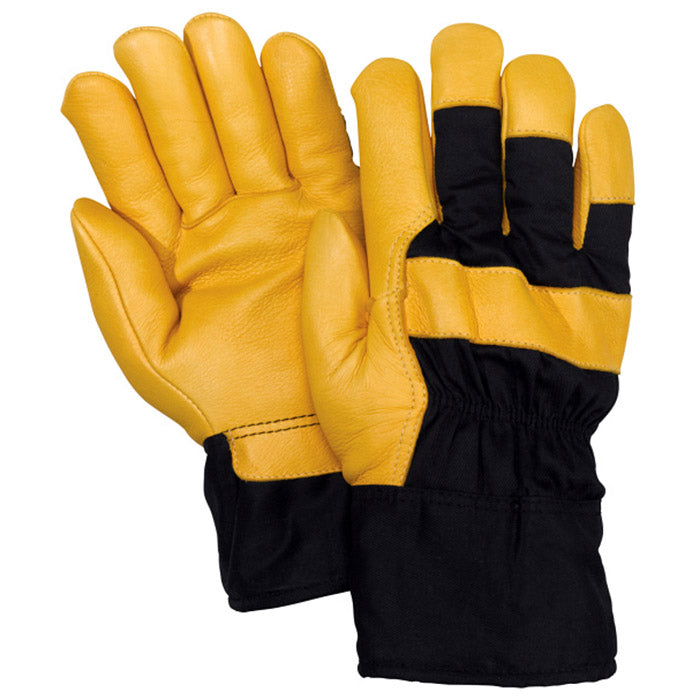 Red Steer 56360 Grain Pigskin Lined Leather Palms Gloves (One Dozen)
Gloves Features:
+ HeatSaver lined,
+ standard grain pigskin leather palm and knuckle strap. Grain Leather has had the upper "top grain" and lower "split" layers separated. The second-highest quality grade of leather is this top layer which has had the "split" layer separated away. This makes it thinner and more pliable than full grain. Pigskin leather is tough and pliable. Soft drying and flexible, pigskin leather withstands moisture without stiffening. It also has excellent abrasion resistance and durability. Knuckle strap gloves are made to protect users against knocks and scrapes. It is great for hand protection that helps keeps dirt and other materials out of the hands. It is recommended for use in the construction and assembly industries.
+ wing thumb. Wing Thumb is an angled thumb that provides increased flexibility and does not contain a seam between the palm and thumb. This makes it durable and comfortable for extended wear.
+ heavy black starched canvas back,
+ 2 3/4 inch safety cuff.Safety Cuff is designed to provide added protection from abrasion, the Safety Cuff is often augmented by a rubberization or other lamination process to add durability and stiffness.
+ shirred elastic wrist. Gloves with an elastic wrist allows for comfort and compression. It allows air to circulate through the material for breathability. Among all, this feature provides excellent wrist support.

*Gloves sold in increments of 12 pairs in each size