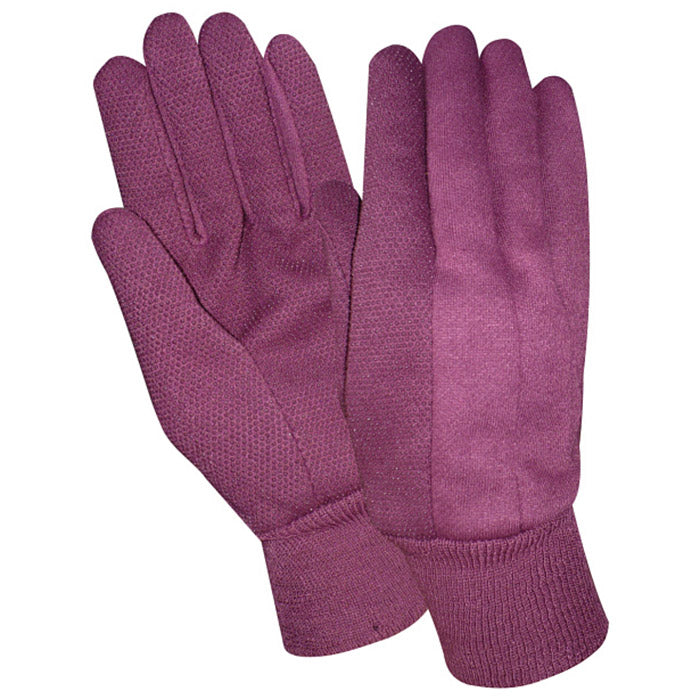 Red Steer 23220 PVC Dotted Ladies Gloves (One Dozen)
Gloves Features:
+ 9 oz. jersey with PVC mini dot palm. Polyvinyl chloride is a thermoplastic polymer that is used to coat the outside of gloves in order to provide protection from chemicals, punctures, cuts and abrasion. It is primarily designed to keep hands protected from oil and other slippery substances while providing a superior grip. Kinco offers a selection of fully coated PVC gloves, including oil resistant, textured finish, knit wrist or gauntlet, and insulated styles. PVC gloves are frequently worn by warehouse workers, farmers, agriculturists, construction workers and commercial fishermen.
+ straight thumb. This design features a thumb that is perpendicular to the wrist and is useful in those areas where gripping is important. Although it may not be as ergonomically comfortable as other designs. 
+ knit wrist. The Knit Wrist is a comfortable, snug fitting option that helps prevent dirt and debris from infiltrating your glove, while simultaneously keeping warmth in during the winter months.
+ clute cut. This pattern has a seamless palm with three seams between the fingers all the way down the back of the glove. It is used primarily for fabric material gloves.
+ burgundy. 
*Gloves sold in increments of 12 pairs in each size