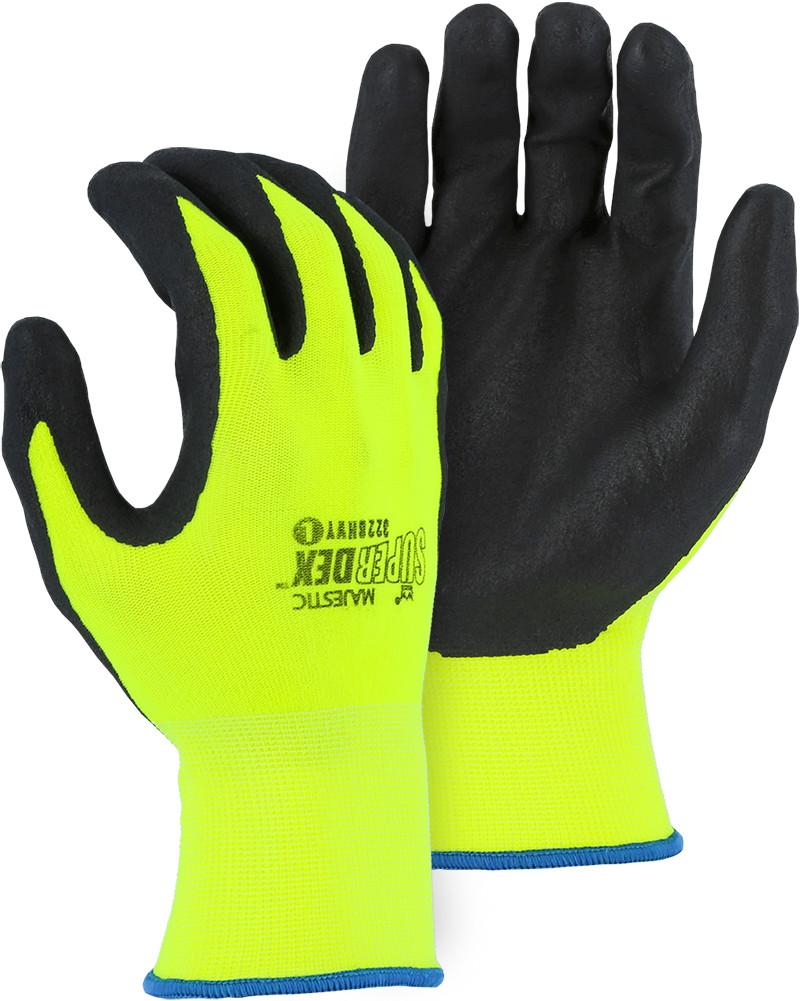 Super-Dex Nitrile Coated Hi-Vis Gloves Majestic 3228HVY (one dozen) are a durable and heavy duty pair of gloves.
Gloves features:                   
+ Micro foam nitrile palm. Nitrile is a co-polymer of acrylonitrile and butadiene. It is a synthetic version of latex (but does not contains the latex proteins) that is strong, does not cause allergic reaction and therefore has a wider range of applications. It offers excellent resistance to punctures and tears and stands up well to oil, making it a good choice for handling small oily parts.
+ High visibility yellow nylon shell. High visibility gloves gives the user the assurance that he can be visible while on the worksite. It can improve the recognition of your movements from people that you come across in work. Nylon is a durable, abrasion resistant and resilient fiber. Over all it is a well wearing and resistant to insects, fungi and mildew.
+ 15 gauge liner for lightweight comfort. 15 gauge liner gloves have a higher and increased glove gauge to suit certain industries. These gloves are made to protect against certain hazards applicable to cold storage applications, commercial fishing, frozen food packaging, agriculture, and construction. These gloves are not too thick but durable because the number of threads are bigger.
+ Ultra cool, breathable coating keeps hands cool and dry
+ Low link and non-marking design reduces the risk of material
+ contamination
+ 100% launderable
+ Manufactured in ISO 9001 approved facility
+ Pre-curved finger design to minimize hand fatigue. The pre-curved finger pattern give gloves ability to reduce hand fatigue while in the workplace. It provides the user a perfect fit and dexterity while doing construction and other industry related works.
** Gloves are sold in increments of 12 pairs in each size only.