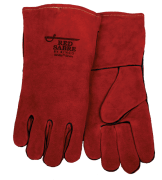 Red Sabre Premium Cowhide Welding Gloves (one dozen)
Gloves Features:
+ Premium grade split cowhide leather, Cowhide is the most commonly used leather in work gloves. It is known for its strength and durability. This hide maintains its integrity and takes the shape of the wearer.
+ Sewn with Kevlar® thread. Kevlar™ is one of the strongest and most heat resistant commercially available threads. It is about 2½ times stronger than nylon and polyester, has almost no stretch, will not melt, and decomposes at 800ºF.
+ Gauntlet area lined with flame retardant material
+ Soft fleece cotton sock lining on palm and back
+ Fully welted seams for total protection
+ Wing thumb, means an angled thumb that provides increased flexibility and does not contain a seam between the palm and thumb. This makes it durable and comfortable for extended wear.
 ** Gloves are sold in increments of 12 pairs in each size only.