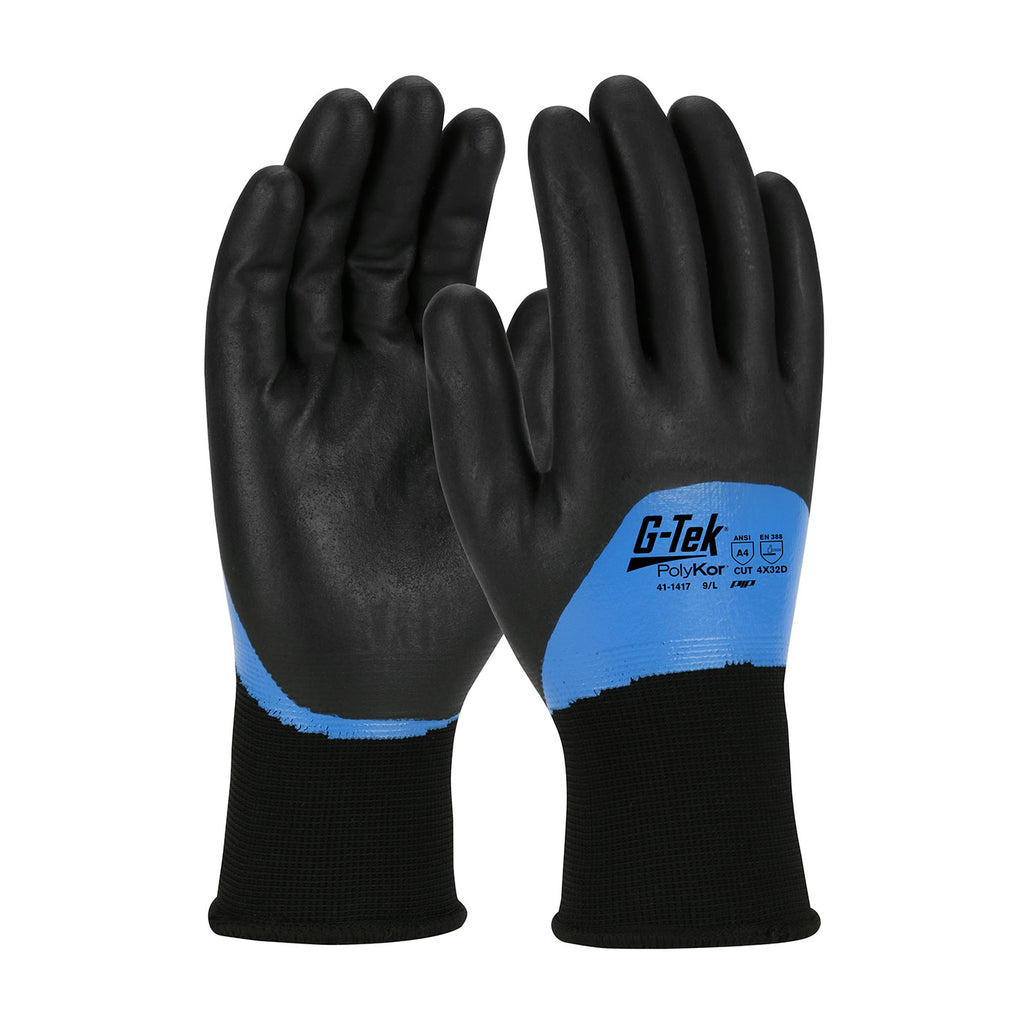 PIP 41-1417 G-Tek Seamless Knit PolyKor Blend with Acrylic Liner and Double-Dipped Nitrile Foam Grip on Full Hand Glove
Product Description
Used in refrigerated areas, utilities, food processing, commercial fishing, construction, outdoor winter activities and recreation.
FEATURES
Seamless construction for a comfortable fit
PolyKor® blended shell is lightweight and provides excellent dexterity, tactile sensitivity and cut resistance
Acrylic lined gloves provide economical cold weather protection
Nitrile foam coating provides superior grip in dry, wet and oily applications
Fully coated flat nitrile helps keep hands dry in wet applications
Knit wrist helps prevent dirt and debris from entering the glove
Excellent thermal insulation
Quickly evaporates moisture from the skin
Extra softness for non-chafing comfort
Launderable for extended life and to reduce replacement costs
Color coded hems for easy size identification
ANSI CUT LEVEL: A4
EN388 RESULTS: 4X32D
LINER MATERIAL:
 

POLYKOR

PolyKor: Products constructed with PolyKor® engineered yarn are suitable for protection against mechanical hazards in the toughest environments. PolyKor® products can be designed for different protection levels, up to the highest levels, while maintaining an unprecedented level of comfort. They are also highly resistant to abrasion and chemicals, so you can rely on them to provide long-lasting protection.
CONSTRUCTION:
 

COATED SEAMLESS KNIT

Coated Seamless Knit:

GAUGE:
 

15

Gauge: The number of rows of stitches per inch. A higher gauge means less bulk and greater dexterity.

APPLICATIONS

• Refrigerated areas • Utilities • Food processing • Commercial fishing • Construction • Outdoor winter activities & recreation

CARE INSTRUCTIONS

Recommend washing gloves in slightly warm water not exceeding 104°F (40°C). A mild non-ionic detergent should be used. A 5-10 minute cycle time should be employed. Tumble dry on low, maximum temperature 140°F (60°C).

**Sold per dozen