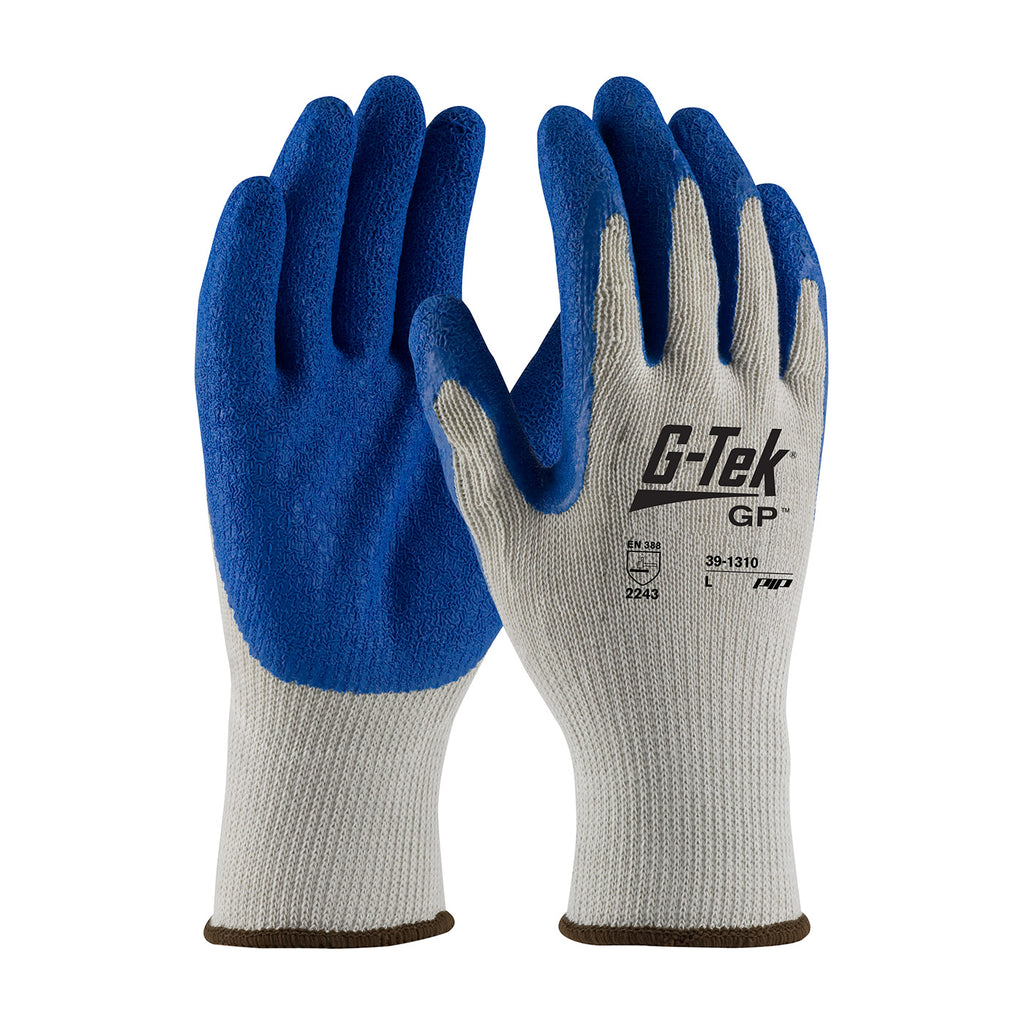 PIP 39-1310 G-Tek Economy Weight Seamless Knit Polyester/Cotton with Latex Coated Crinkle Grip on Palm and Fingers Gloves
Ideal for assembly, construction, inspection, material handling, refuse handling, landscaping and gardening.
FEATURES
Latex "Crinkle" coating provides superior grip in wet and dry conditions
Knit Wrist helps prevent dirt and debris from entering the glove
Seamless cotton/polyester knit shell is comfortable and flexible
Ergonomic shaped curved finger pattern
Breathable back for comfort
This style is also available tri-folded and shrink-wrapped for carefree dispensing through vending machines (39-1310V)
LINER MATERIAL:
 

COTTON / POLYESTER

Cotton is a natural fiber that offers comfort at a low price point. Polyester is a synthetic fiber that offers good abrasion resistance and an amount of chemical resistance.
COATING:
 

LATEX

Offers good dry and wet (aqueous-based liquids, animal fats, caustics, acids and alcohols) grip as well as resistance to snag, cut, puncture and abrasion. 
GRIP:
 

CRINKLE

Latex crinkle coatings are designed to channel away liquids to allow a better handling in heavy duty wet and dirty conditions. The thicker coating provides additional protection for cut and puncture applications.

EN 388 is a European Standard. Cut Level is determined by the number of cycles it takes a spinning circular blade, that is pulled across the material under a constant weight of 500 grams, to cut the fabric. As the number of cycles increase, so does the glove's ratings

The G-Tek brand is applied to seamless knit coated gloves used for various cut protection and general purpose applications for various industrial, construction, and MRO applications. As a comprehensive line of hand protection, G-Tek encompasses several technology platforms to meet the various needs of the market. Each cut resistant glove is tested to both ANSI and EN standards, and test scores are readily available on each product's webpage.

Applications
Secure Wet or Dry Grip, Tear and Puncture Resistant . Handling and Cleanup of Abrasive Parts and Materials . Demolition . Masonry and Tile . Metal Fastening and Assembly