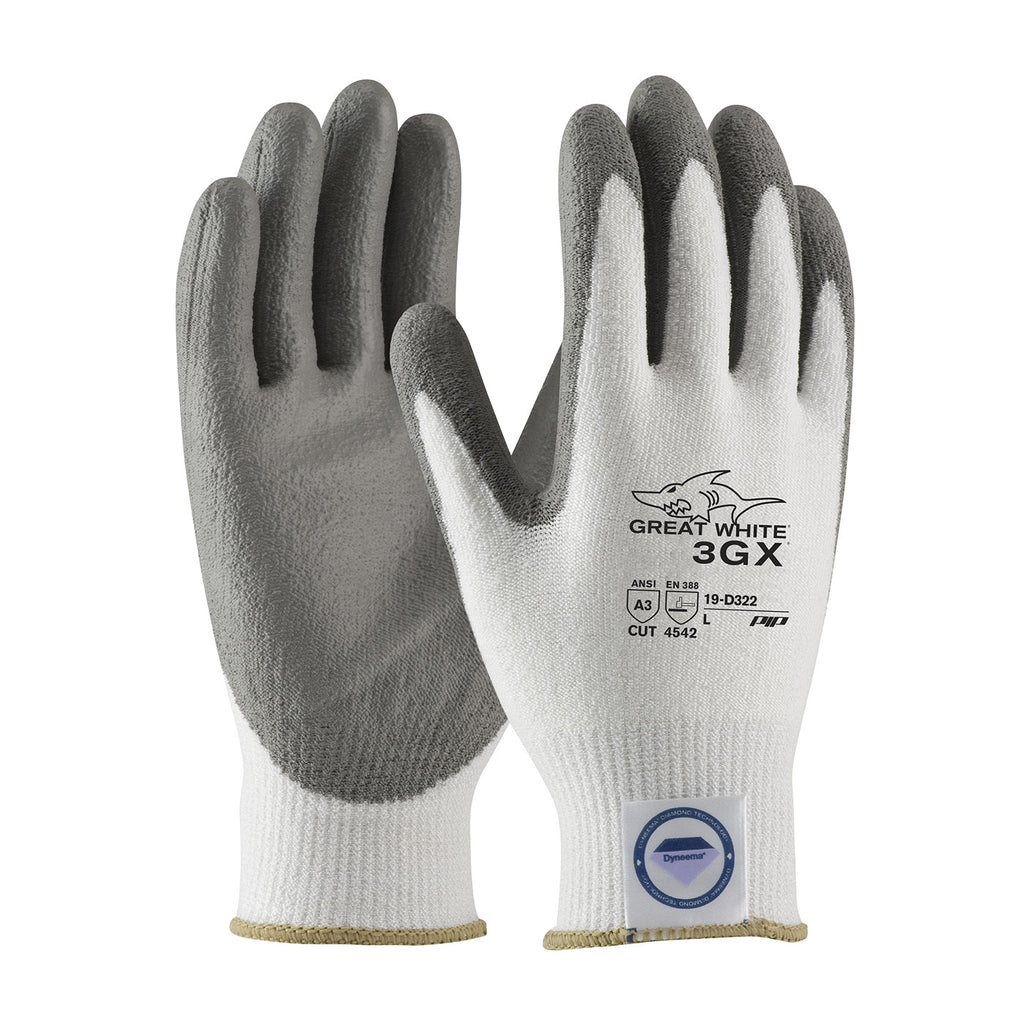 Used for electronics, glass cutting, sheet metal handling, parts assembly, sharp small parts handling, construction and other general duty applications.
Seamless construction offers increased comfort and breathability
Dyneema Diamond & Lycra shell is lightweight and provides excellent dexterity, tactile sensitivity and cut resistance
Polyurethane coated palm and fingertips provides a secure grip in dry and slightly wet/oily conditions and offers high dexterity and tactile sensitivity
Knit Wrist helps prevent dirt and debris from entering the glove
Color coded hems for easy size identification
Washable, resistant to chemicals, water, and ultraviolet light
This style is also available tri-folded and shrink-wrapped for carefree dispensing through vending machines (19-D322V)
LINER MATERIAL:
 

DYNEEMA DIAMOND TECHNOLOGY

With Dyneema Diamond Technology cut resistance can be doubled compared to Dyneema Continuous Filament Technology. The unmatched comfort level provides a cool, non-irritating sensation and feels like you are not even wearing gloves. But, the best feature of all, is the cost-effective and unmatched durability that stands up to laundering for long lasting value.
COATING:
 

POLYURETHANE

Offers good abrasion resistance and dry grip, and fair grip in slightly wet conditions. PU properties allow for a very thin coating, which results in excellent tactility and dexterity.
GRIP:
 

SMOOTH

Available in a variety of polymers such as latex, nitrile, PVC, Neoprene and Polyurethane. Smooth coatings provide the wearer an excellent dry grip. Liquids will not absorb into the coating which will keep the hands dry.

New edition ANSI/ISEA 105-2016 outlines a new test method for determining cut scores and a revised scale from A1-A9.EN 388 is a European Standard. Cut Level is determined by the number of cycles it takes a spinning circular blade, that is pulled across the material under a constant weight of 500 grams, to cut the fabric. As the number of cycles increase, so does the glove's ratings.

The G-Tek brand is applied to seamless knit coated gloves used for various cut protection and general purpose applications for various industrial, construction, and MRO applications. As a comprehensive line of hand protection, G-Tek encompasses several technology platforms to meet the various needs of the market. Each cut resistant glove is tested to both ANSI and EN standards, and test scores are readily available on each product's webpage.