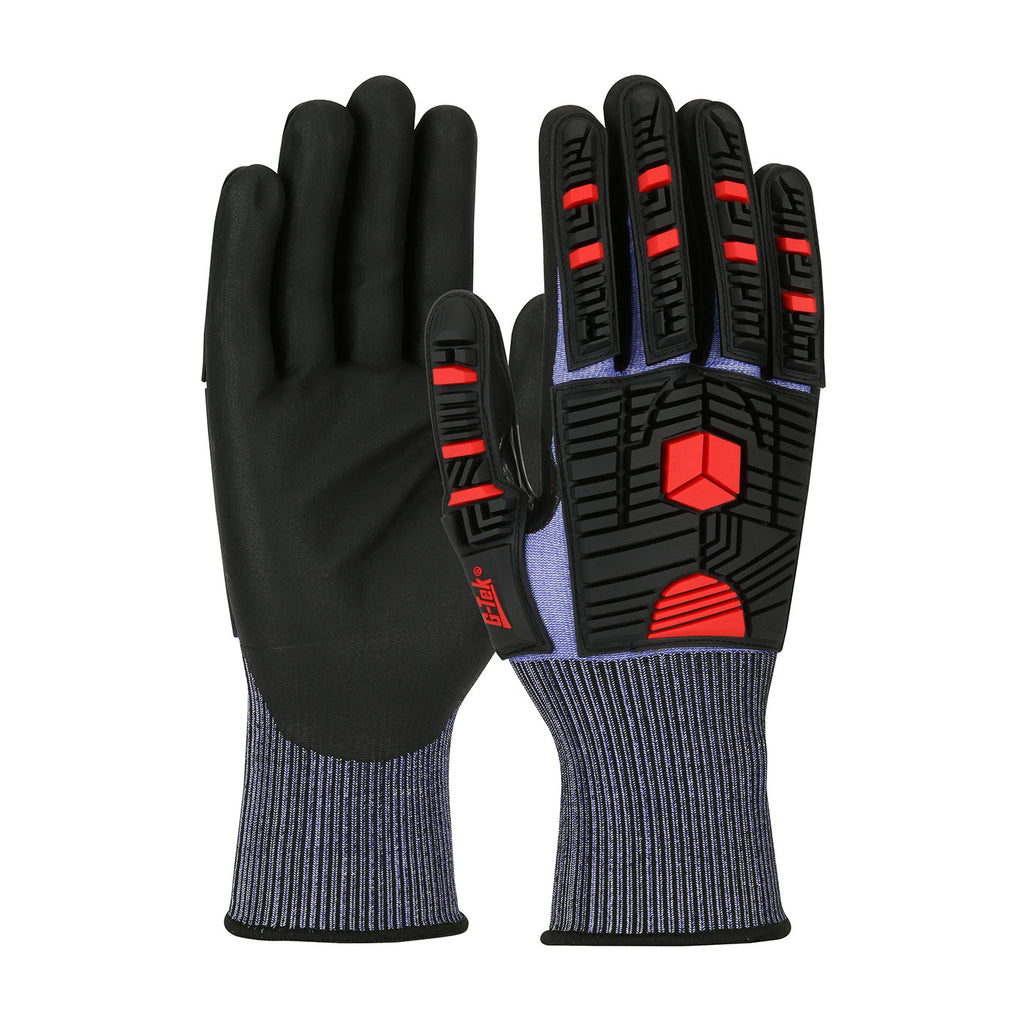 PIP 16-MP585 G-Tek PolyKor X7 Seamless Knit Blended Glove with Impact Protection and NeoFoam Coated Palm and Fingers 
Product Description
Ideal for handling, assembly, and sorting of small to medium parts and materials, shipping, receiving, and packaging, and for maintenance and repair operations.
FEATURES
Seamless construction offers increased comfort and breathability
PolyKor® blended shell with X7™ technology offers very high cut resistance and durability
NeoFoam® offers an incredibly secure grip in dry conditions, a versatile and flexible coating that provides breathability and a high degree of dexterity, ideal for handling and the assembly of parts
Reinforced thumb crotch for extended glove life, enhanced comfort, increased abrasion resistance and added durability in a high-wear area
Thermo Plastic Rubber (TPR) back-of-hand impact resistance to knuckles and fingers by dispersing impact force energy awat from the bone, without sacificing dexterity
Touchscreen compatible to allow the user to operate a touch screen phone or device without removing gloves
Knit Wrist helps prevent dirt and debris from entering the glove
Color coded hems for easy size identification
ANSI CUT LEVEL: A5
EN388 RESULTS: 4X42EP
ANSI IMPACT LEVEL: 1
LINER MATERIAL:
 

POLYKOR X7

PolyKor X7: X7™ Technology represents the latest in engineered yarn development. This super light-weight and thin, 18 gauge reinforced yarn provides very high cut resistance and durability by way of proprietary fibers. The result is exceptional cut resistance in a thin liner configuration.
COATING:
 

NEOFOAM

Neofoam: Proprietary coating only available on G-Tek® brand gloves. NeoFoam® is a highly flexible coating that provides wearers with a high degree of grip, hand dexterity and comfort. NeoFoam® is versatile, hardworking, resistant to light oils and touchscreen compatible with most devices, making G-Tek® NeoFoam® coated gloves the optimal choice for numerous handling applications.
GAUGE:
 

18

Gauge: The number of rows of stitches per inch. A higher gauge means less bulk and greater dexterity.

APPLICATIONS

• Construction• Manufacturing• Assembly• Shipping/Transportation• Automotive• Warehousing

CARE INSTRUCTIONS

Recommend washing gloves in slightly warm water not exceeding 40°C. A mild non-ionic detergent should be used. A 5-10 minute cycle time should be employed. Tumble dry on low - maximum temperature 140°F (60°C).