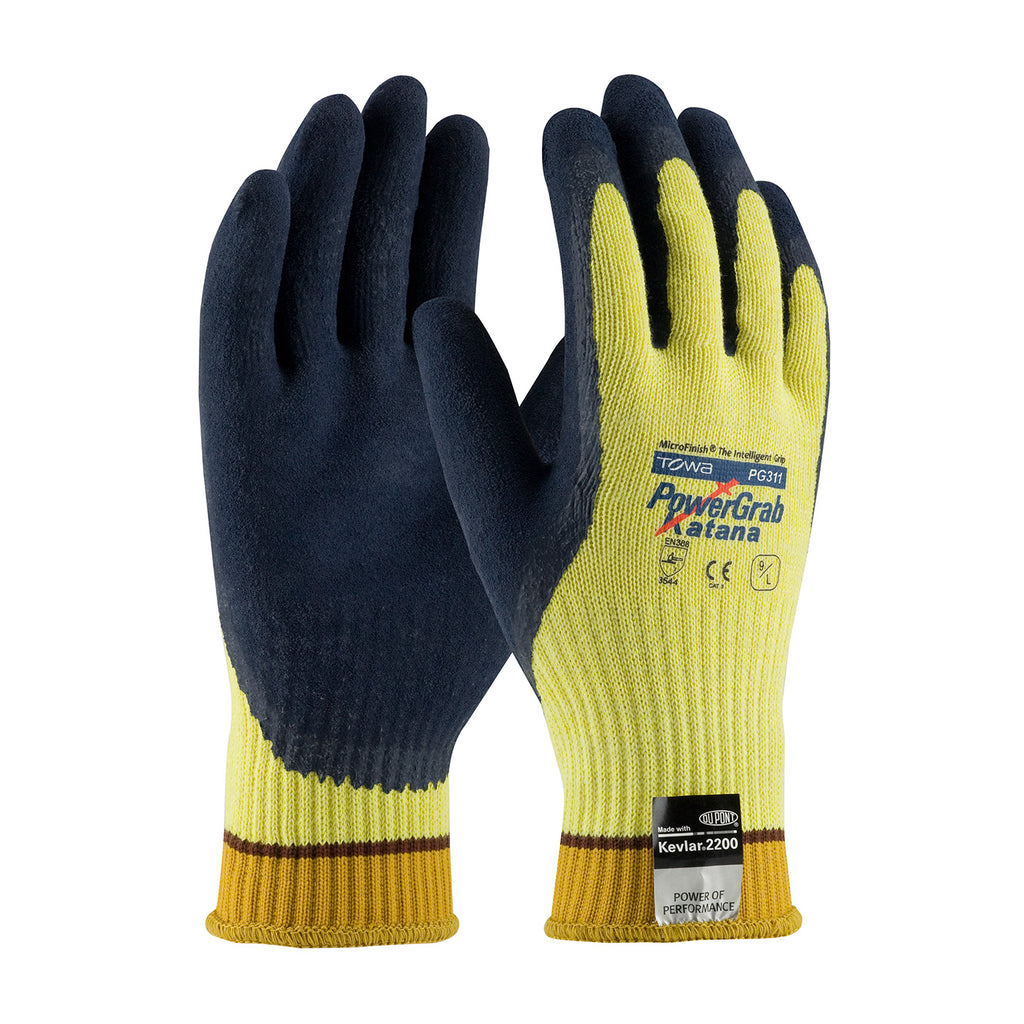 PIP 09-K1700 PowerGrab Katana Seamless Knit Kevlar/Steel Glove with Latex Coated MicroFinish Grip on Palm and Fingers
Product Description
Ideal for material and glass handling, fishing Industries, sanitation, waste handling, recycling, general maintenance and woodworking.
FEATURES
Seamless knit construction provides comfort without sacrificing dexterity
Kevlar® & Steel shell provides excellent protection against heat, cuts, lacerations and abrasions
Latex "MicroFinish" coated palm and fingertips provide a superior grip in dry, wet/non-oily conditions by reacting like tiny suction cups that attach themselves firmly to the material being handled
Knit Wrist helps prevent dirt and debris from entering the glove
Color coded hems for easy size identification
Launderable for extended life and to reduce replacement costs
ANSI CUT LEVEL: A4
EN388 RESULTS: 3544DX
LINER MATERIAL:
 

KEVLAR

Kevlar: DuPont™ Kevlar® is light, comfortable and enduring protection against heat, cuts, lacerations and abrasions. Protective gloves and sleeves bearing this brand name provide assurance of compliance to strict performance and quality standards, and are produced only by Kevlar®licensed manufacturers.
COATING:
 

LATEX

Latex: Latex is a natural rubber that is flexible, tough and durable, delivering a high degree of resistance to snagging, puncture and abrasion. Latex is water-resistant as well as resistant to protein-based oils. Latex is not recommended for jobs that involve contact with hydrocarbon-based oils or solvents.
GRIP:
 

MICROFINISH

MicroFinish: Created by using a soft and flexible compound such as latex or nitrile filled with thousands of tiny suction cups. As these suction cups come into contact with a surface, they create a vacuum that disperses fluids away from the object to allow clean contact with the object. Works well in handling wet and dirty applications.

APPLICATIONS

• Material & glass handling • Fishing Industries • Sanitation, waste handling & recycling • General maintenance • Woodworking

CARE INSTRUCTIONS

Machine wash in warm water with detergent. Rinse well and spin using high speed. Tumble dry on low to medium heat setting. Can be dry cleaned. Do not bleach.

**Sold per dozen