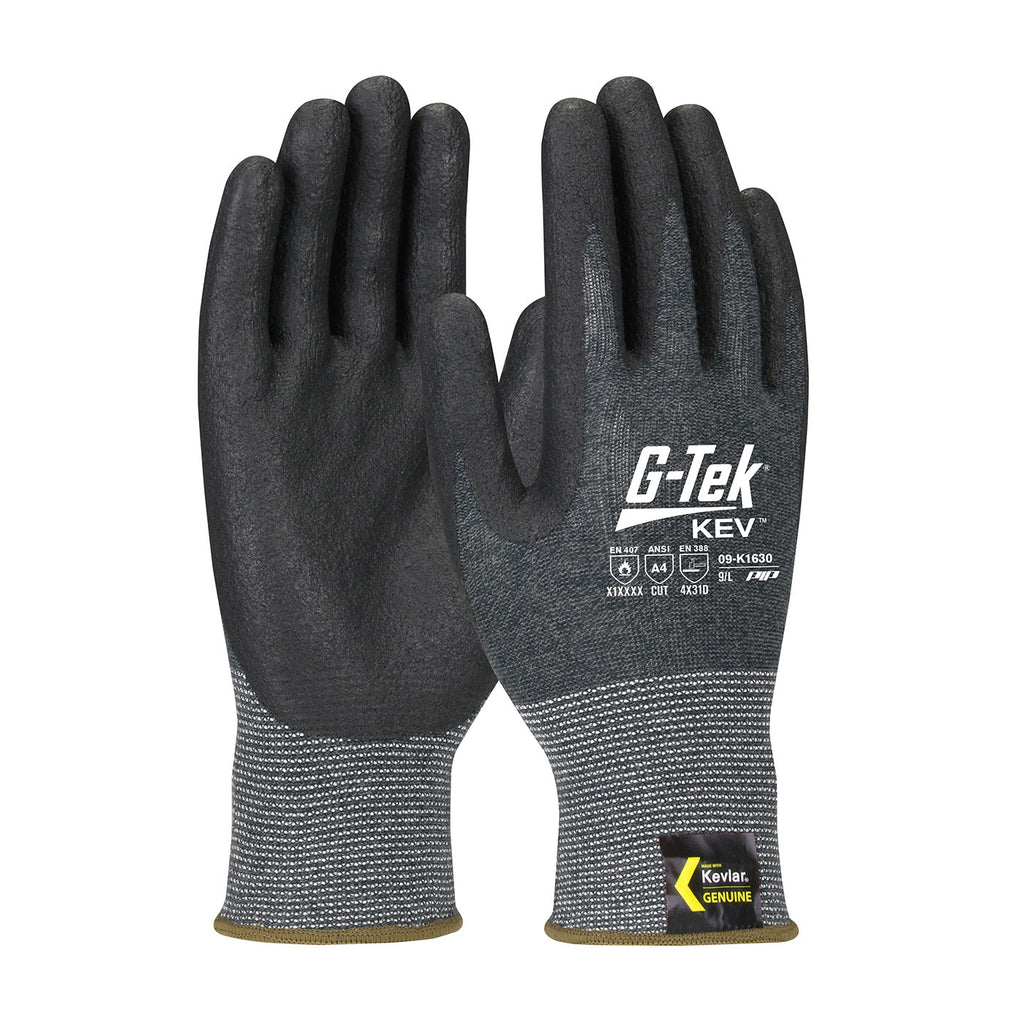 G-Tek® KEV™ Seamless Knit Kevlar® Blended Glove with Nitrile Coated Foam Grip on Palm & Fingers
Ideal for handling and assembly of medium to large parts and materials, metal fabrication, parts cleaning, mechanical equipment maintenance and repair, and medium to heavy fastening and anchoring. Used for material handling, glass handling operations, fishing industries, sanitation, general maintenance, woodworking, waste handling and recycling.


Seamless knit construction provides comfort without sacrificing dexterity
Kevlar fiber shell provides high tensile strength relative to its weight, is inherently cut resistant and will not melt, ignite or conduct electricity
Foam Nitrile coatings are compatible with light oils and will provide a good grip and excellent abrasion resistance
Knit Wrist helps prevent dirt and debris from entering the glove
Color coded hems for easy size identification
Launderable for extended life and to reduce replacement costs
LINER MATERIAL: KEVLAR
DuPont Kevlar is light, comfortable and enduring protection against heat, cuts, lacerations and abrasions. Protective gloves and sleeves bearing this brand name provide assurance of compliance to strict performance and quality standards, and are produced only by Kevlar licensed manufacturers.
COATING: NITRILE
Excellent dry grip, thicker coating offers superior resistance to snag, cut, puncture and abrasion. When enhanced by a foam coating, it offers very good grip in chemicals including oils, petrochemicals, fuels and most acids.
GRIP: FOAM
Available in Nitrile, Latex and PVC, foam grip is designed to channel away liquids to allow better handling in wet and dirty conditions. Also provides excellent grip and tactile sensitivity in dry applications.
From athletes to astronauts, first responders to industrial workers, Kevlar enables anyone, with an imagination and a job to do, to Dare Bigger™. PIP, the leading provider of coated seamless knit gloves in America teamed up with DuPont to develop the new G-TEK KEV series of cut resistant gloves, a unique combination of high strength and thermal stability.
New edition ANSI/ISEA 105-2016 outlines a new test method for determining cut scores and a revised scale from A1-A9.
EN 388 is a European Standard. Cut Level is determined by the number of cycles it takes a spinning circular blade, that is pulled across the material under a constant weight of 500 grams, to cut the fabric. As the number of cycles increase, so does the glove's ratings