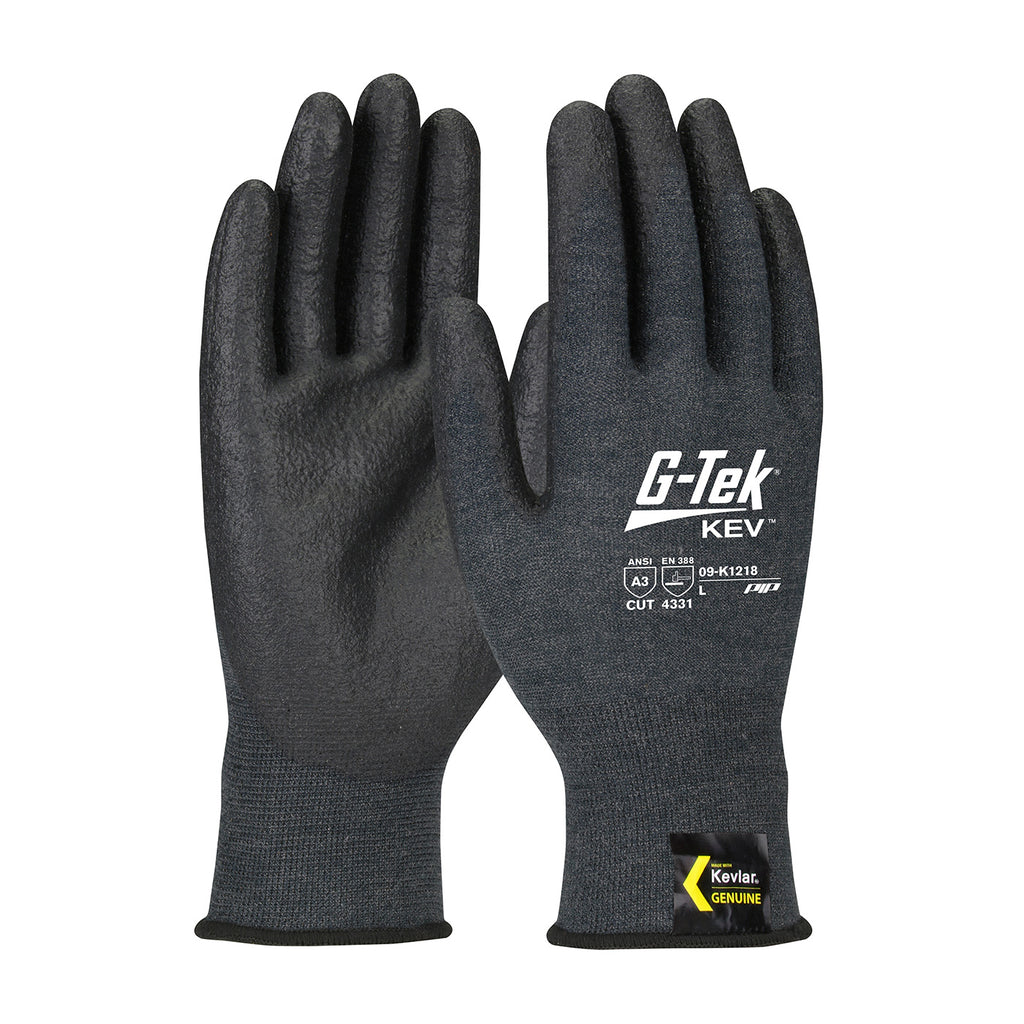 PIP 09-K1218 G-Tek KEV Seamless Knit Kevlar Blended Glove with NeoFoam Coated Palm & Fingers - Touchscreen Compatible 
Product Description
Ideal for handling, assembly, and sorting of small to medium parts and materials, shipping, receiving, and packaging, and for maintenance and repair operations.
FEATURES
Seamless knit construction provides comfort without sacrificing dexterity
Kevlar® fiber shell provides high tensile strength relative to its weight, is inherently cut resistant and will not melt, ignite or conduct electricity
NeoFoam® offers an incredibly secure grip in dry conditions, a versatile and flexible coating that provides breathability and a high degree of dexterity, ideal for handling and the assembly of parts
Touchscreen compatible to allow the user to operate a touch screen phone or device without removing gloves
Knit Wrist helps prevent dirt and debris from entering the glove
Color coded hems for easy size identification
100% Silicone-Free
Launderable for extended life and to reduce replacement costs

ANSI CUT LEVEL: A3

EN388 RESULTS: 4331CX
LINER MATERIAL:
 

KEVLAR

Kevlar: DuPont™ Kevlar® is light, comfortable and enduring protection against heat, cuts, lacerations and abrasions. Protective gloves and sleeves bearing this brand name provide assurance of compliance to strict performance and quality standards, and are produced only by Kevlar®licensed manufacturers.
COATING:
 

NEOFOAM

Neofoam: Proprietary coating only available on G-Tek® brand gloves. NeoFoam® is a highly flexible coating that provides wearers with a high degree of grip, hand dexterity and comfort. NeoFoam® is versatile, hardworking, resistant to light oils and touchscreen compatible with most devices, making G-Tek® NeoFoam® coated gloves the optimal choice for numerous handling applications.
GAUGE:
 

18

Gauge: The number of rows of stitches per inch. A higher gauge means less bulk and greater dexterity.

**Sold per dozen