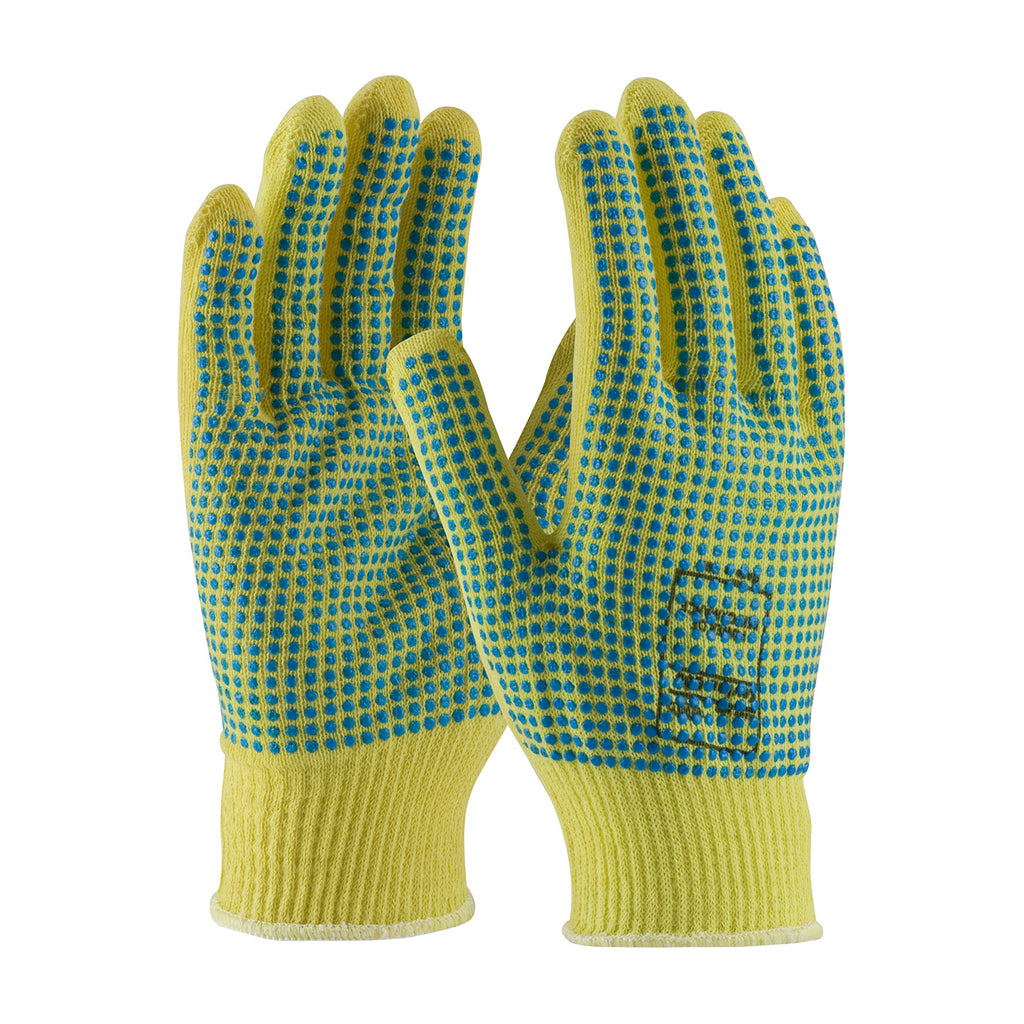 PIP 08-K200PDD  Kut Gard Seamless Knit Kevlar Glove with Double-Sided PVC Dot Grip - Light Weight 
Product Description
Light Weight, used in glass handling, canning and bottling, sheet metal handling, recycling and automotive applications.
FEATURES
Dupont Kevlar® fiber construction provides high tensile strength relative to its weight, is inherently cut resistant and will not melt, ignite or conduct electricity
Seamless knit construction protects hands without sacrificing comfort or dexterity
Knit Wrist helps prevent dirt and debris from entering the glove
Double-sided PVC dots provide enhanced grip and extra cut and abrasion resistance
Ambidextrous design allows replacing one glove at a time, rather than pairs
Color coded hems for easy size identification
Custom styles and modifications available
ANSI CUT LEVEL:
A2
LINER MATERIAL:
 

KEVLAR

Kevlar: DuPont™ Kevlar® is light, comfortable and enduring protection against heat, cuts, lacerations and abrasions. Protective gloves and sleeves bearing this brand name provide assurance of compliance to strict performance and quality standards, and are produced only by Kevlar®licensed manufacturers.
COATING:
 

PVC

PVC: Durable resistance and barrier protection against petrochemicals, oils and grease. While it is flexible, PVC does not provide the tactile sensitivity associated with most rubber products.
GRIP:
 

DOT

Dot: Patterns such as dots, blocks and palm coatings in a variety of polymers provide an enhanced grip, performance and durability. String knit/ambidextrous gloves can have a pattern screened on both sides to extend the life of the glove.

CARE INSTRUCTIONS

Machine wash in warm water with Detergent.

Rinse well and spin extract using high speed.

Tumble dry on Low to Medium heat setting.

Can be Dry-Cleaned.

DO NOT BLEACH.

***Sold per dozen