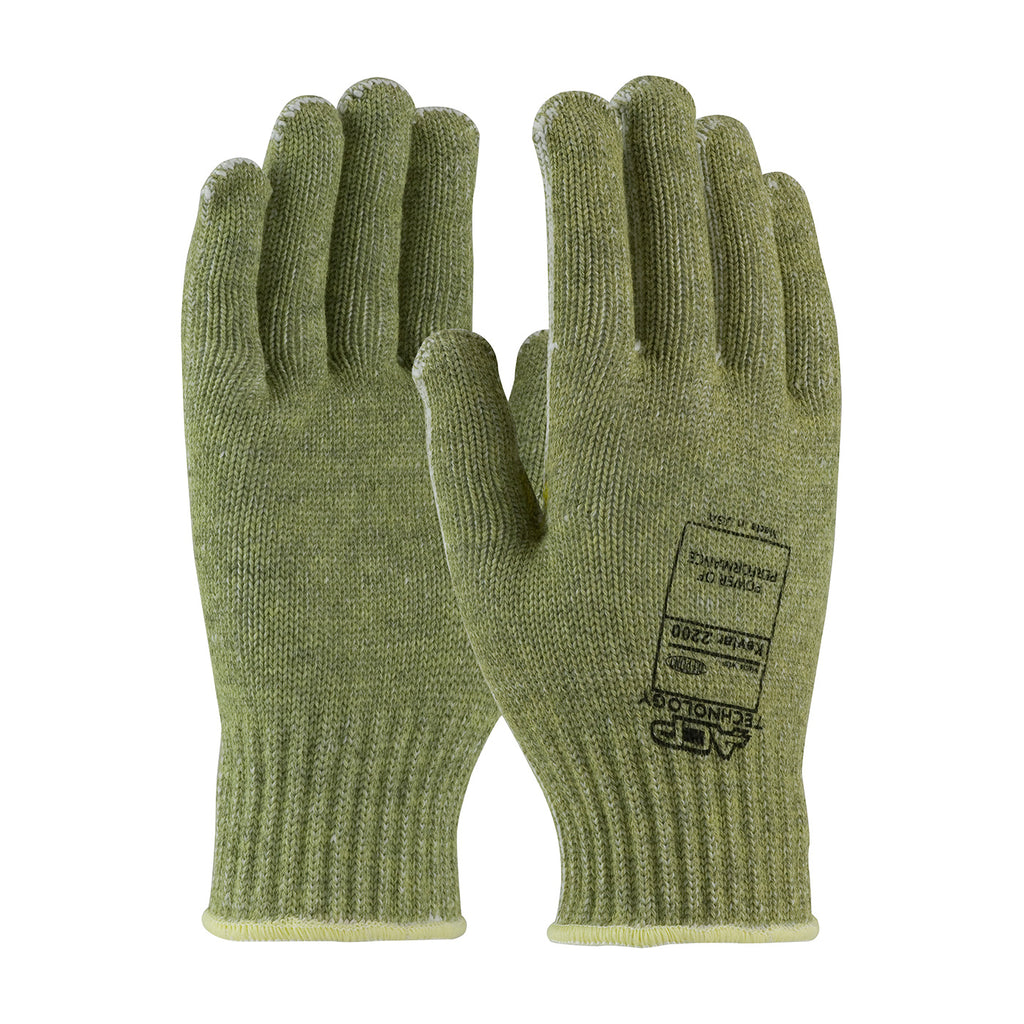 PIP 07-KA744 Kut Gard Seamless Knit ACP/Kevlar Blended Glove with Cotton Lining - Economy Weight
Product Description
Economy Weight. Ideal fo sheet metal fabrication, painting, canning, recycling, assembly, plastic molding, metal fabrication, pulp and paper processing, food processing, and metal stamping. Do not use near open flame.
FEATURES
Seamless knit construction provides comfort without sacrificing dexterity
Prioprietary ACP Technology and Kevlar® blended shell provides excellent protection against heat, cuts, lacerations and abrasions
Heat resistance protects the hand from minor heat and burn injuries up to 350°F, Do not use near open flame
Cotton lining is ultra soft and very lightweight
Knit Wrist helps prevent dirt and debris from entering the glove
100% Silicone Free
Color coded hems for easy size identification
Launderable for extended life and to reduce replacement costs
ANSI CUT LEVEL: A3
LINER MATERIAL:
 

ACP / KEVLAR

ACP: Proprietary ACP Technology raises the standards for performance knit products offering an increase in overall performance and value compared to traditional Para-Aramid products. ACP provides excellent abrasion and cut resistance for lower cost per use. ACP Technology gloves and sleeves are 100% silicone free.
Kevlar: DuPont™ Kevlar® is light, comfortable and enduring protection against heat, cuts, lacerations and abrasions. Protective gloves and sleeves bearing this brand name provide assurance of compliance to strict performance and quality standards, and are produced only by Kevlar®licensed manufacturers.
COATING:
 

UNCOATED

APPLICATIONS

• Sheet metal fabrication • Painting • Canning • Recycling • Assembly • Plastic molding • Pulp and paper processing

CARE INSTRUCTIONS

Machine wash in warm water with detergent. Rinse well and spin using high speed. Tumble dry on low heat setting. Can be dry-cleaned. Do not bleach!

PERFORMANCE PROPERTIES

• ASTM F2992-15 ANSI Cut Level A3 (Adopted by ANSI/ISEA 02/16) • ASTM F1790-05 ANSI Cut Level 3

**Sold per dozen