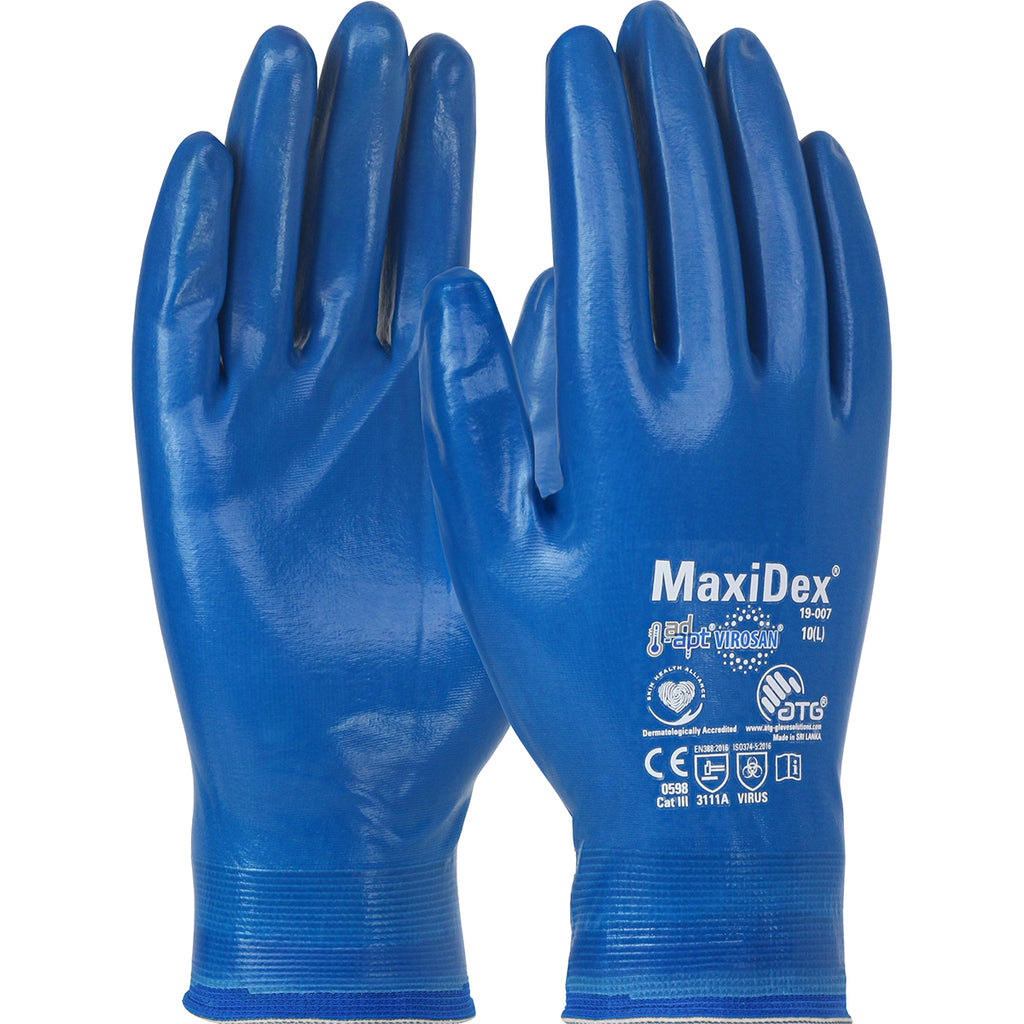 MaxiDex™ 19-007 Seamless Knit Nylon Glove with Nitrile Coating and ViroSan™ Technology on Full Hand - Touchscreen Compatible
Product Description
MaxiDex® hybrid glove combines the best features of precision-handling gloves and disposable gloves in one groundbreaking solution that includes our proprietary technology, ViroSan™, which is designed to prevent the proliferation of viruses which deposit on the glove.
FEATURES
Seamless construction offers increased comfort and breathability
ViroSan™ is designed to prevent the proliferation of viruses which deposit on the glove and has also been successfully tested against NL63, a human strain of covid.
Anti-viral barrier protection per ISO 20743:2013 test method & EN374-5
Liquid proof, air leak tested - EN374-2
Exclusive AD-APT™ technology keeps hands drier, fresh and clean
Tested against Fentanyl per ASTM D6978-05 (2019)
Touchscreen compatible to allow the user to operate a touch screen phone or device without removing gloves
Knit Wrist helps prevent dirt and debris from entering the glove
END OF LIFE –
RECYCLABLE VIA TERRACYCLE® PROGRAM
EXTENDED LIFE –
REUSABLE/LAUNDERABLE
EN388 RESULTS:
3111AX
LINER MATERIAL:
 

NYLON

Nylon: Seamless nylon liner offers increased comfort, finger dexterity and breathability.
COATING:
 

NITRILE

Nitrile: Nitrile is a synthetic rubber compound that offers excellent puncture, tear and abrasion resistance. Nitrile is also known for its resistance to hydrocarbon-based oils or solvents. Nitrile coated gloves are the first choice for industrial jobs which require handling of oily parts. Nitrile is durable and helps to maximize protection.
GRIP:
 

FLAT

Flat: Flat coatings take on the surface properties of the glove liner which results in the thin, conformable deposit of coating material. This results in high dexterity glove with tactile grip in dry and in slightly oily conditions.