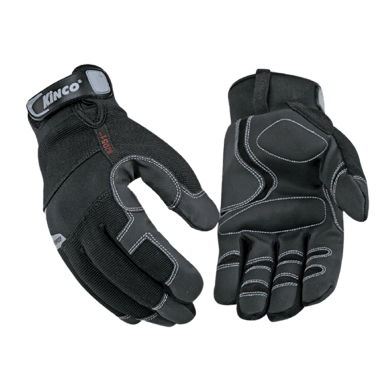 Kinco 2051 Pro Series Lined Waterproof Cold Weather Mechanics Gloves (one dozen)
Gloves features:
+ MiraX2™ black color synthetic leather palm. MiraX2™ is a high tech microfiber made of polyester and nylon designed to perform as a substitute to genuine leather. While it is durable and long lasting like natural leather, MiraX2™ has the added benefit of being machine washable and flexible. This flexibility makes MiraX2™ the primary material for Kinco's highest dexterity gloves.
+ XtremeGrip!® reinforcing and grip material palm and fingertips
+ Heatkeep® insulation and foam lining. Heatkeep® is finely spun polyester fibers create thousands of air pockets that surround the hand, trapping the heat that is being generated and repelling the cold that is coming from the outside. Combined with layers of nylon batting and nonabsorbent polypropylene material which "wicks" water away from the hand, Heatkeep® lining out performs the other leading insulators on the market today.
+ AquaNOT!® waterproof lining. AquaNOT!® is Kinco's signature waterproof liner. It is a durable, lightweight and flexible membrane material that is incorporated in between the outer shell and inner lining material in select styles. These gloves are ideal for jobs where hands require added protection from cold, damp conditions.
+ Rubber hook and loop pull strap for wrist closure
+ Machine washable
** Gloves are sold in increments of 12 pairs in each size only.