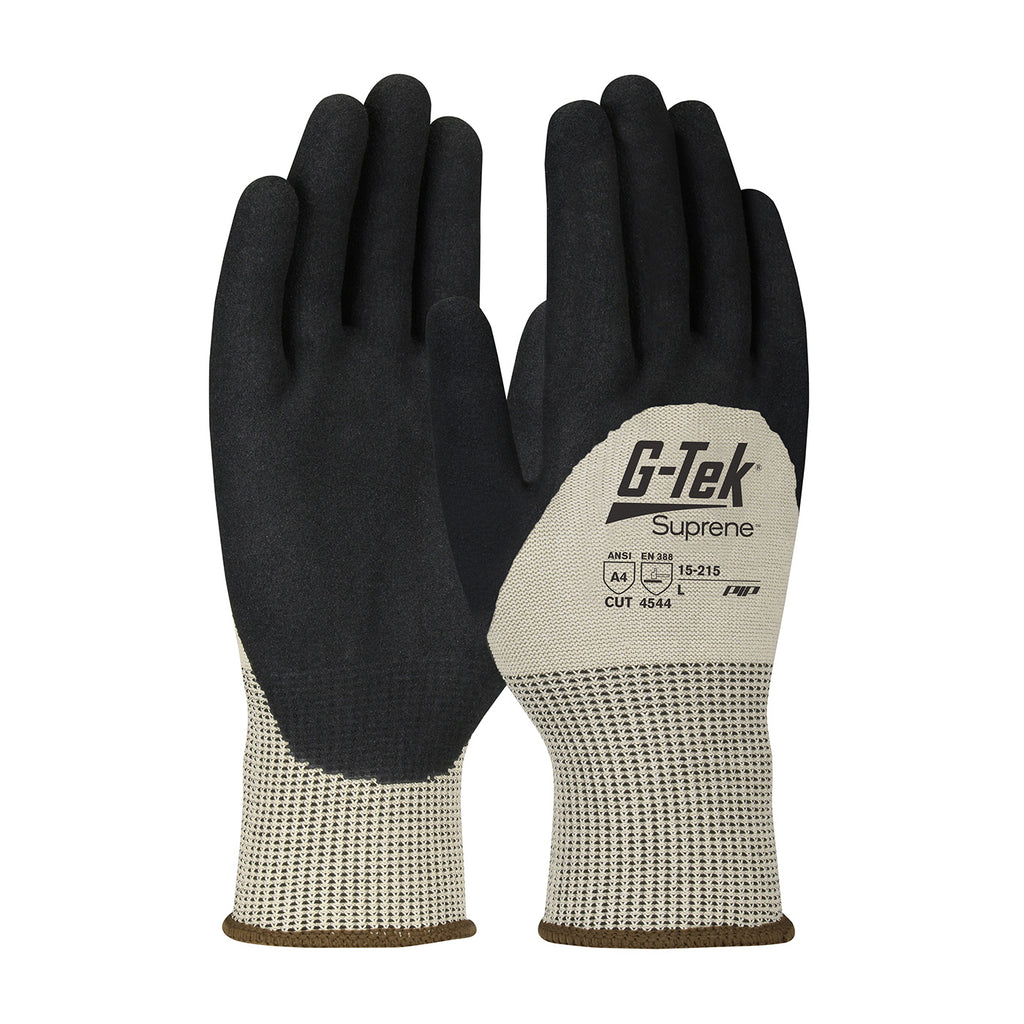 G-Tek Suprene 15-215 Seamless Knit Blended Glove with Nitrile Coated MicroSurface Grip on Palm, Fingers and Knuckles
Product Description
Ideal for handling and assembly of medium to large parts and materials, metal fabrication, parts cleaning, mechanical equipment maintenance and repair, and medium to heavy fastening and anchoring.
FEATURES
Suprene™ fiber shell is 100 times stronger than steel and is amongst the highest performing fibers in cut and tear resistance
Seamless knit construction provides comfort without sacrificing dexterity
Nitrile MicroSurface coatings are impermeable providing an elevated grip in dry and oily conditions, infused with thousands of tiny suction cup pockets that create a vacuum effect that dispenses fluids away on contact
Knit Wrist helps prevent dirt and debris from entering the glove
Color coded hems for easy size identification
100% Silicone-Free
Launderable for extended life and to reduce replacement costs
ANSI CUT LEVEL:
A4
EN388 RESULTS:
4544DX
LINER MATERIAL:
 

SUPRENE

Suprene: Advancements in nanofabrication have resulted in the development of Suprene™ - based on graphene, it is a new fiber that is proving to be amongst the highest in resistance to cut and tear. Similar to graphite, graphene is remarkably strong for its weight — being 100 times stronger than steel - it outperforms any other material. Structurally it is very different than other fibers in that it is made up of micro-structured graphene sheets well-aligned along the fiber axis.
COATING:
 

NITRILE

Nitrile: Nitrile is a synthetic rubber compound that offers excellent puncture, tear and abrasion resistance. Nitrile is also known for its resistance to hydrocarbon-based oils or solvents. Nitrile coated gloves are the first choice for industrial jobs which require handling of oily parts. Nitrile is durable and helps to maximize protection.
GRIP:
 

MICROSURFACE

MicroSurface: Created by using a soft and flexible compound such as latex or nitrile filled with thousands of tiny suction cups. As these suction cups come into contact with a surface, they create a vacuum that disperses fluids away from the object to allow clean contact with the object. Works well in handling wet and dirty applications.