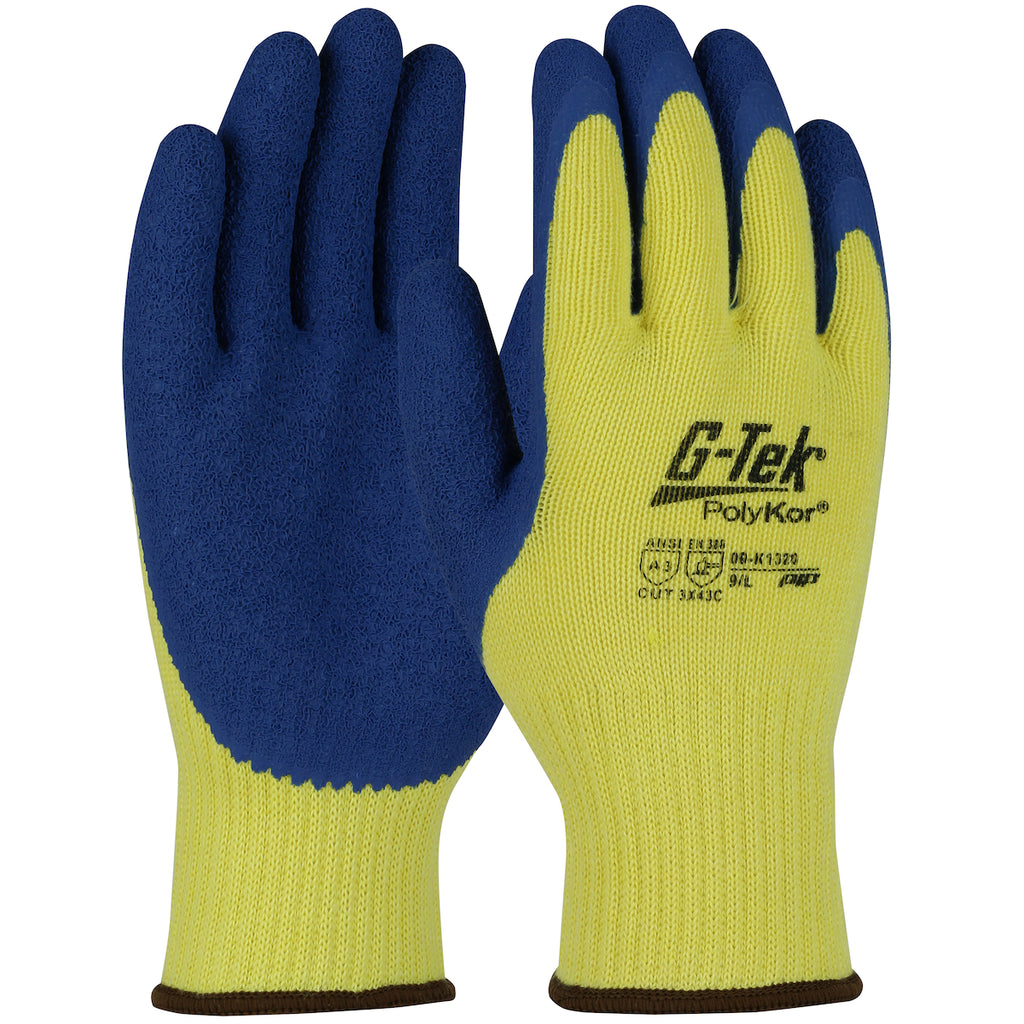 G-Tek PolyKor 09-K1320 Seamless Knit PolyKor Blended Glove with Latex Coated Crinkle Grip on Palm and Fingers 
Product Description
Ideal for handling, assembly, sorting of small to medium parts and materials, shipping, receiving packaging and MRO applications.
FEATURES
Seamless construction offers increased comfort and breathability
PolyKor® blended shell with Aramid PolyKor® is lightweight and provides excellent dexterity, tactile sensitivity, and cut resistance while providing protection in heat resistant applications, where sparks and heat are present
Latex "Crinkle" coated palm and fingertips provides superior grip in wet/dry conditions and offers abrasion resistance
Knit Wrist helps prevent dirt and debris from entering the glove
Color coded hems for easy size identification
Launderable for extended life and to reduce replacement costs
ANSI CUT LEVEL:
A3
EN388 RESULTS:
3X43CX
LINER MATERIAL:
 

POLYKOR

PolyKor: Products constructed with PolyKor® engineered yarn are suitable for protection against mechanical hazards in the toughest environments. PolyKor® products can be designed for different protection levels, up to the highest levels, while maintaining an unprecedented level of comfort. They are also highly resistant to abrasion and chemicals, so you can rely on them to provide long-lasting protection.
COATING:
 

LATEX

Latex: Latex is a natural rubber that is flexible, tough and durable, delivering a high degree of resistance to snagging, puncture and abrasion. Latex is water-resistant as well as resistant to protein-based oils. Latex is not recommended for jobs that involve contact with hydrocarbon-based oils or solvents.
GRIP:
 

CRINKLE

Crinkle: Crinkle coatings have creases or wrinkles on the surface of the coating that are designed to channel fluids away and allow better contact on dry or wet surfaces.