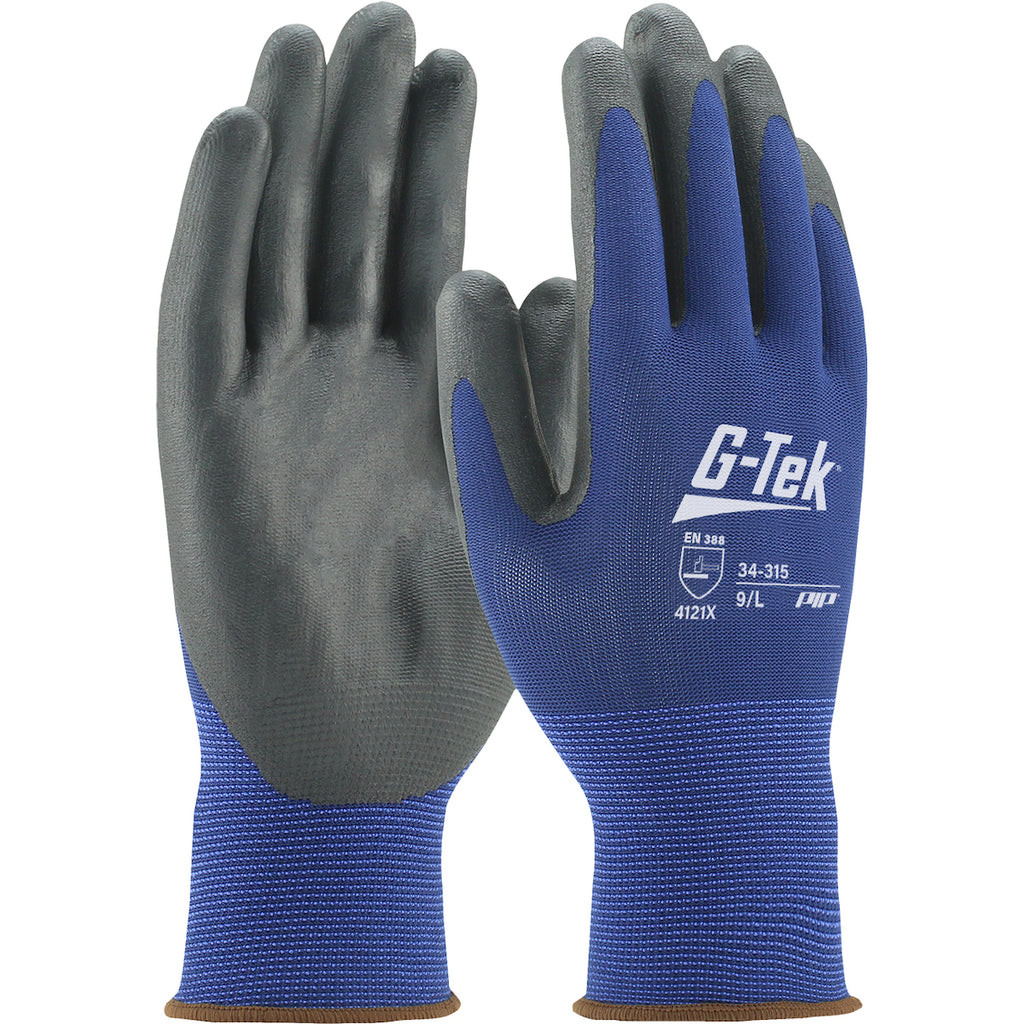 G-Tek® 34-315 Seamless Knit Polyester Glove with Nitrile Coated Foam Grip on Palm & Fingers - 15 Gauge
Product Description
Ideal for handling and assembly of parts and materials, equipment maintenance and repair, parts cleaning, and fastening and anchoring.
FEATURES
Seamless one-piece polyester shell offers increased comfort, finger dexterity and breathability
Foam Nitrile coatings are breathable and durable, designed with a cell structure that disperse fluids on contact for an improved grip
Knit Wrist helps prevent dirt and debris from entering the glove
Color coded hems for easy size identification
Washable, resistant to chemicals, water, and ultraviolet light
ANSI ABRASION LEVEL:
4
ANSI PUNCTURE LEVEL:
2
END OF LIFE –
RECYCLABLE VIA TERRACYCLE® PROGRAM
EXTENDED LIFE –
REUSABLE/LAUNDERABLE
EN388 RESULTS:
4121XX
LINER MATERIAL:
 

POLYESTER

Polyester: Polyester is a synthetic fiber that offers good abrasion resistance and an amount of chemical resistance.

COATING:
 

NITRILE

Nitrile: Nitrile is a synthetic rubber compound that offers excellent puncture, tear and abrasion resistance. Nitrile is also known for its resistance to hydrocarbon-based oils or solvents. Nitrile coated gloves are the first choice for industrial jobs which require handling of oily parts. Nitrile is durable and helps to maximize protection.
GRIP:
 

FOAM

Foam: Available in Nitrile, NeoFoam® and PVC, foam coating cell structure is designed to channel fluids away from the surface of the object helping improve grip in slightly oily/wet conditions. Secure grip in dry conditions. Oily/wet grip varies with density of cell structure.