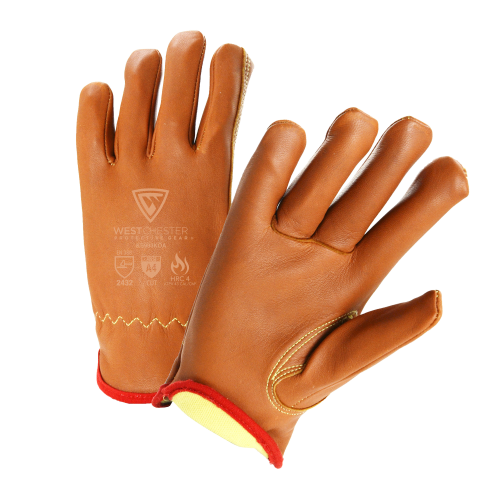 West Chester KS993KOA Oil Armor Finish Goat Driver w/ Cut Lining Gloves (One Pair)
Regular price
-Liquid error (snippets/product-template line 154): Computation results in '-Infinity'%
$36.54
Vendor West Chester
SKU: KS993KOA/S
WEST CHESTER KS993KOA OIL ARMOR FINISH GOAT DRIVER WITH CUT LINING
Oil Armor premium goat leather driver with cut and sew cut paraaramid A4 liner and Keystone thumb, Kevlar sewn.
FEATURES
• Cut and sewn para-aramid liner with Kevlar(R) thread provides ANSI Cut A4 protection
• Oil Armor (TM) technology is a finish applied after tanning that enhances resistance to oil and dirt
• ANSI Puncture 5
• ANSI A4 cut lining
• EN388 2524
• Arc Flash 4 rating (43 cal/cm2)
TEST STANDARDS
• Arc Flash level 4 (43 cal/cm2); ANSI Cut A4 ; EN388: 2524; ANSI Puncture 5
CARE INSTRUCTIONS
Brush off dirt. Wash by hand in cold water. Do not bleach. Lay flat to dry. Do not iron.