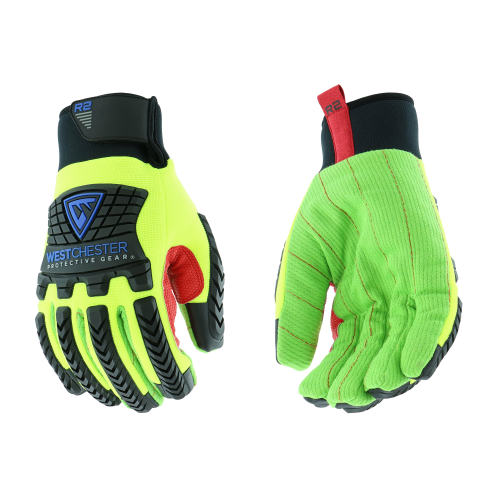 R2 87812 R2 WINTER GREEN CORDED PALM RIGGER GLOVE WITH HOOK AND LOOP WRIST
Winter version with 150G polyester lining and Waterproof Bladder inside. Green Cotton with red stitching corded palm, Hook and Loop cuff, TPR heavy duty knuckle and back of hand protection.
FEATURES
• 150g Positherm lining
• Waterproof lining keeps your hands dry • Cotton corded palm provides excellent grip in oily conditions
• Heavy duty TPRs cover the fingers, knuckles and back of hand to protect against impact and pinches
• Provides ANSI Cut A3 protection
• Thumb saddle reinforcement extends up the side of the index finger for added coverage against wear and tear, and extends the life of the glove
• Neoprene hook-and-loop cuff with spandex provides added comfort with the perfect fit
• 4-way spandex on back of hand provides comfortable stretch.
TEST STANDARDS
• EN388:2016 - 1333 Ansi Cut A3
CARE INSTRUCTIONS
Machine wash cold with mild detergent; do not bleach, do not iron; line dry