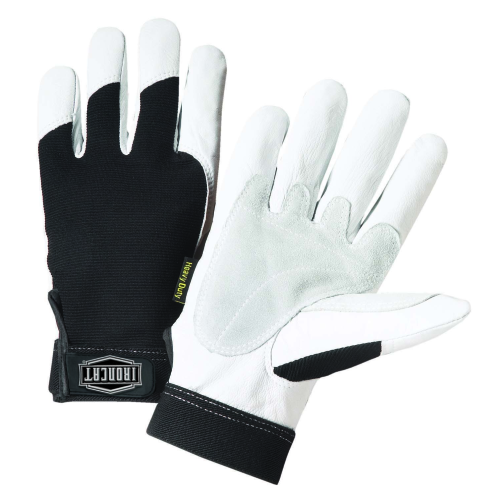 IRONCAT 86552 PREMIUM HEAVY DUTY GOATSKIN PALM
Grain goat with spandex back and split reinforced palm and thumb. Hook and loop elastic wrist with logo TPR closure.
FEATURES
• Heavy duty top grain goatskin
• Reinforced palm, thumb saddle and fingertips
• 4-way stretch spandex back
• 360° Cut Resistant Liner- ANSI A3
• Hook and loop wrist
APPLICATIONS
• Carpentry
• Landscaping
• Ranching and Equipment operation
TEST STANDARDS
• F1790-97 ANSI A3
• 1245 grams
• EN 388 2443 CARE
INSTRUCTIONS Brush off dirt. Wash By hand in cold water. Do not bleach. Lay flat to dry. Do not iron.
Care instructions: Brush off excess dirt, machine wash separately on cold with mild detergent. Don not bleach. Lay flat to dry.