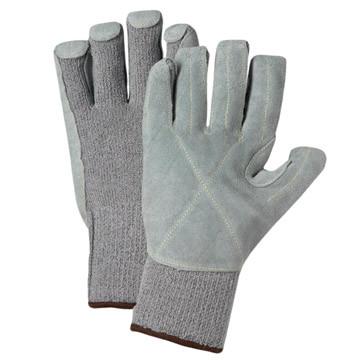 West Chester 730TGLP Taeki 5 Lined Leather Gloves (One Dozen)
FEATURES AND BENEFITS:
+ EN Cut Level 5, ANSI Cut Level 4, 2113 gms & High abrasion resistance
+ Durable cowsplit leather palm sewn with Kevlar® thread. Kevlar® is a high strength material and is a registered trademark of the DuPont Corporation. It is used and known for its ability to resist abrasion and maintain its integrity in high temperatures. Kinco uses this material on some glove styles for its superior protection and durability. Split Leather is created from the fibrous part of the hide left once the top-grain of the rawhide has been separated from the hide. During the splitting operation, the top grain and drop split are separated. The drop split can be further split (thickness allowing) into a middle split and a flesh split. Moreover, Cowhide is the most commonly used leather in work gloves. It is known for its strength and durability. This hide maintains its integrity and takes the shape of the wearer.
+ Heat contact resistance with added terry loop in yarn
**Gloves sold in increments of 12 pairs in each size