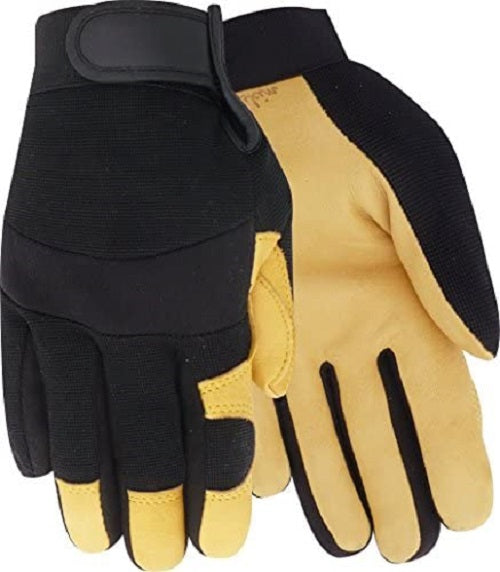 Red Steer 175 Grain Goatskin Lined Drivers Gloves (One Dozen)
Gloves Features:
+ HeatSaver thermal lined premium golden grain goatskin palm. Grain Leather has had the upper "top grain" and lower "split" layers separated. The second-highest quality grade of leather is this top layer which has had the "split" layer separated away. This makes it thinner and more pliable than full grain. Goatskin contains the highest natural lanolin content, which makes these work gloves soft and pliable, yet very durable.
+ Form fitting spandex back,
+ Wing thumb. Wing Thumb is an angled thumb that provides increased flexibility and does not contain a seam between the palm and thumb. This makes it durable and comfortable for extended wear. 
+ Velcro wrist strap. The Velcro Wrist Support of gloves help relieve mild hand or wrist discomfort from repetitive tasks.  It helps steady the hands and lessens rigidity to the wrist. It recommended for people who usually does strenuous jobs.

*Gloves sold in increments of 12 pairs in each size