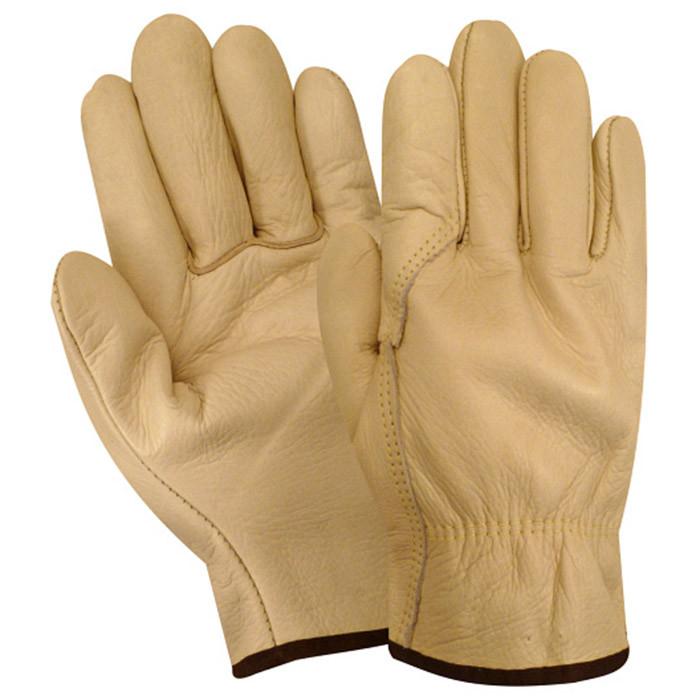 Red Steer 1545 Cowhide Unlined Drivers Gloves (One Dozen)
Gloves Features:
+ Premium grade grain cowhide.Grain Leather has had the upper "top grain" and lower "split" layers separated. The second-highest quality grade of leather is this top layer which has had the "split" layer separated away. This makes it thinner and more pliable than full grain. Cowhide is the most commonly used leather in work gloves. It is known for its strength and durability. This hide maintains its integrity and takes the shape of the wearer.
+ seams sewn with Kevlar thread. The Kevlar Sewn glove is made of Kevlar thread which is a heat resistant and durable thread. This material provides a higher protection from cuts or injuries and improves the durability of the glove. This type of glove is ideal for construction, transportation, warehouse and equipment workers, and operators.
+ shirred elastic back. The Shirred Back Gloves is made from standard grain cowhide that has an elastic back. It has a shirred elastic wrist that helps keep dirt away from the glove. The shirred back design is also used to hold the glove securely on to your hands. This type of gloves is ideal for utility workers who does light welding and assembly work.
+ wrap around index finger,
+ keystone thumb. Highly flexible, the keystone thumb is the most ergonomic thumb design which is stitched separately into the palm area.
+ self hemmed. 
*Gloves sold in increments of 12 pairs in each size