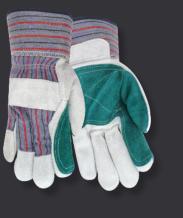 Red Steer 15064 Suede Unlined Leather Palms (One Dozen)
Gloves Features:
+ Standard suede cowhide. Split Leather or Suede is created from the fibrous part of the hide left once the top-grain of the rawhide has been separated from the hide. During the splitting operation, the top grain and drop split are separated. The drop split can be further split (thickness allowing) into a middle split and a flesh split. Cowhide is the most commonly used leather in work gloves. It is known for its strength and durability. This hide maintains its integrity and takes the shape of the wearer.
+ green double-ply palm. 2 Ply gloves have double thickness protection for ease of mind and safety while doing tasks. This glove is durable and can be used everyday as a winter outdoor pair. It is cut resistant which reduces cut injuries on jobsites.
+ leather knuckle strap. Knuckle strap gloves are made to protect users against knocks and scrapes. It is great for hand protection that helps keeps dirt and other materials out of the hands. It is recommended for use in the construction and assembly industries.
+ forefinger and fingertips,
+ 2½ inch safety cuff. Safety Cuff is designed to provide added protection from abrasion, the Safety Cuff is often augmented by a rubberization or other lamination process to add durability and stiffness.
+ wing thumb. An angled thumb that provides increased flexibility and does not contain a seam between the palm and thumb. This makes it durable and comfortable for extended wear.
*
Gloves sold in increments of 12 pairs in each size