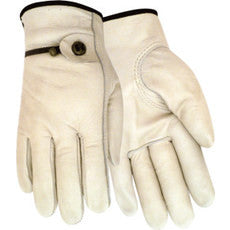 Red Steer 1500 Cowhide Unlined Drivers Gloves (One Dozen)
Gloves Features:
+ Premium grade,
+ tan grain cowhide. Grain leather has had the upper "top grain" and lower "split" layers separated. The second-highest quality grade of leather is this top layer which has had the "split" layer separated away. This makes it thinner and more pliable than full grain. Cowhide is the most commonly used leather in work gloves. It is known for its strength and durability. This hide maintains its integrity and takes the shape of the wearer.
+ ball & tape strap fastener,
+ keystone thumb. Highly flexible, the keystone thumb is the most ergonomic thumb design which is stitched separately into the palm area.
+ fabric hem. 
*Gloves sold in increments of 12 pairs in each size