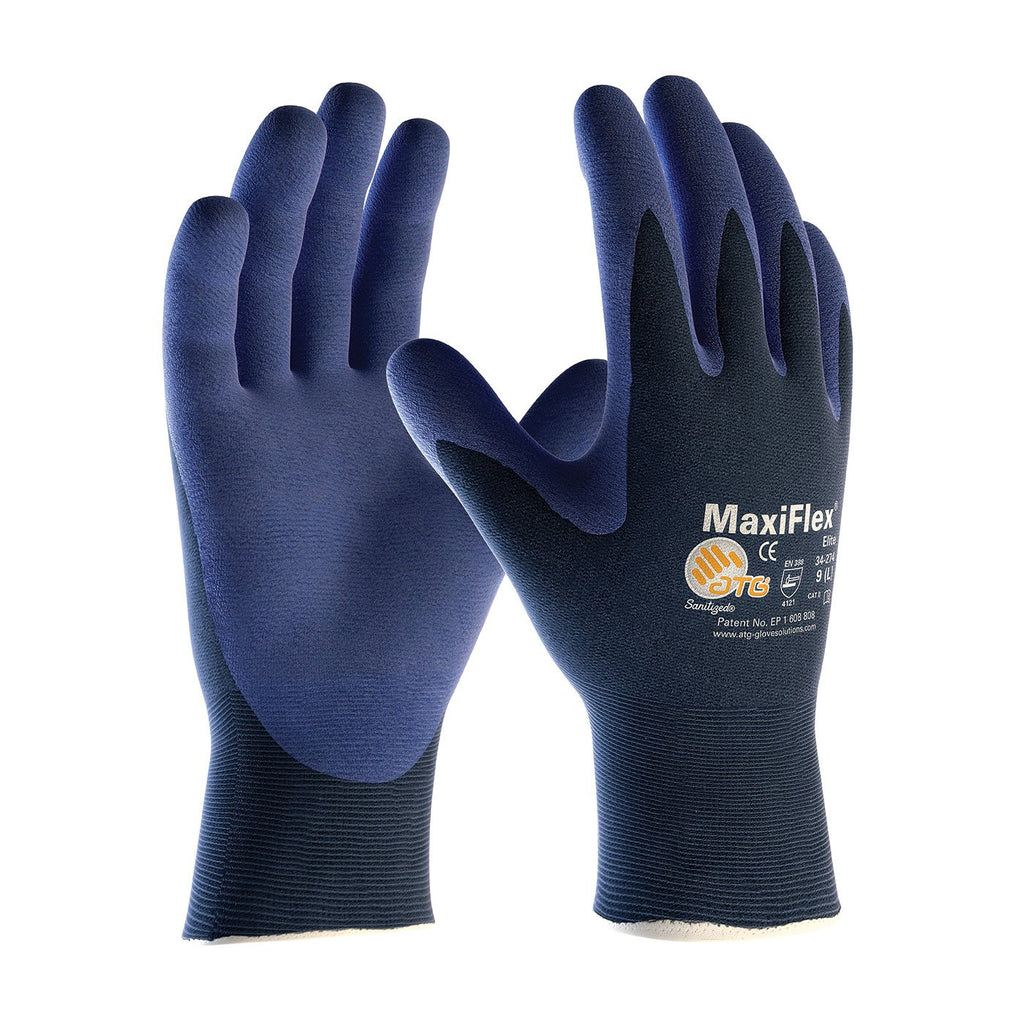 PIP 34-274 MaxiFlex Elite Ultra Light Weight Seamless Knit Nylon Glove with Nitrile Coated MicroFoam Grip on Palm and Fingers Glove
Product Description
Designed and developed to be the lightest fully breathable coated glove MaxiFlex® Elite™ completely re-writes the rules. Weighing in at a staggering 36% less and 30% thinner than traditional foam nitrile gloves MaxiFlex® Elite™ delivers a user experience that sets game changing new standards. Comfort is further enhanced through its additional increased breathability which is up to 40% more than similar gloves.
FEATURES
Nitrile MicroFoam coatings are compatible with light oils and provide good grip and excellent abrasion resistance
Knit Wrist helps prevent dirt and debris from entering the glove
Silicone free
Even More Efficient Breathability - The heat from your hand travels quicker through the breathable surface due to it being 35% thinner than any other traditional foam gloves enabling it to breathe 40% more efficiently than similar gloves
360° Breathability - Patented micro-foam nitrile coating offers 360° breathability, making it the most breathable glove on the market today
30% Thinner - Than traditional foam nitrile gloves on the market whilst offering similar mechanical performance to traditional foam nitrile gloves
Ultra Light Weight Liner - The use of an ultra light liner utilized to produce smooth and rounded fingertips, maximizing fingertip sensitivity
Form, Fit and Feel - Mimics the "hand at rest", reducing hand fatigue and increasing comfort
Consistent Penetration Free Liner - From the nitrile, leaving only the soft liner resting against the skin.
Optimized Grip - The micro-cup finish allows for a controlled grip
All ingredients used in the manufacturing and construction of this product are compliant with the REACH legislation
This glove has been laundered prior to final packaging making it clean and safe for use
The Oeko-Tex® Association has evaluated and certified this product as skin safe from the second it comes into contact with the skin
The Skin Health Alliance has awarded professional dermatological accreditation following review of the scientific dossier behind this product
Complies with FDA food handling requirements 21 CFR, Part 177
EN388 RESULTS:
4121X
LINER MATERIAL:
 

LYCRA / NYLON

Lycra:
Nylon: Seamless nylon liner offers increased comfort, finger dexterity and breathability.
COATING:
 

NITRILE

Nitrile: Nitrile is a synthetic rubber compound that offers excellent puncture, tear and abrasion resistance. Nitrile is also known for its resistance to hydrocarbon-based oils or solvents. Nitrile coated gloves are the first choice for industrial jobs which require handling of oily parts. Nitrile is durable and helps to maximize protection.
GRIP:
 

MICROFOAM

MicroFoam: MicroFoam is a patented formulation of ATG's nitrile coating that allows gloves to be thinly coated for added grip, dexterity, comfort and breathability. This premium coating process assures controlled grip in dry and in slightly oily conditions as well as maximum comfort and flexibility.