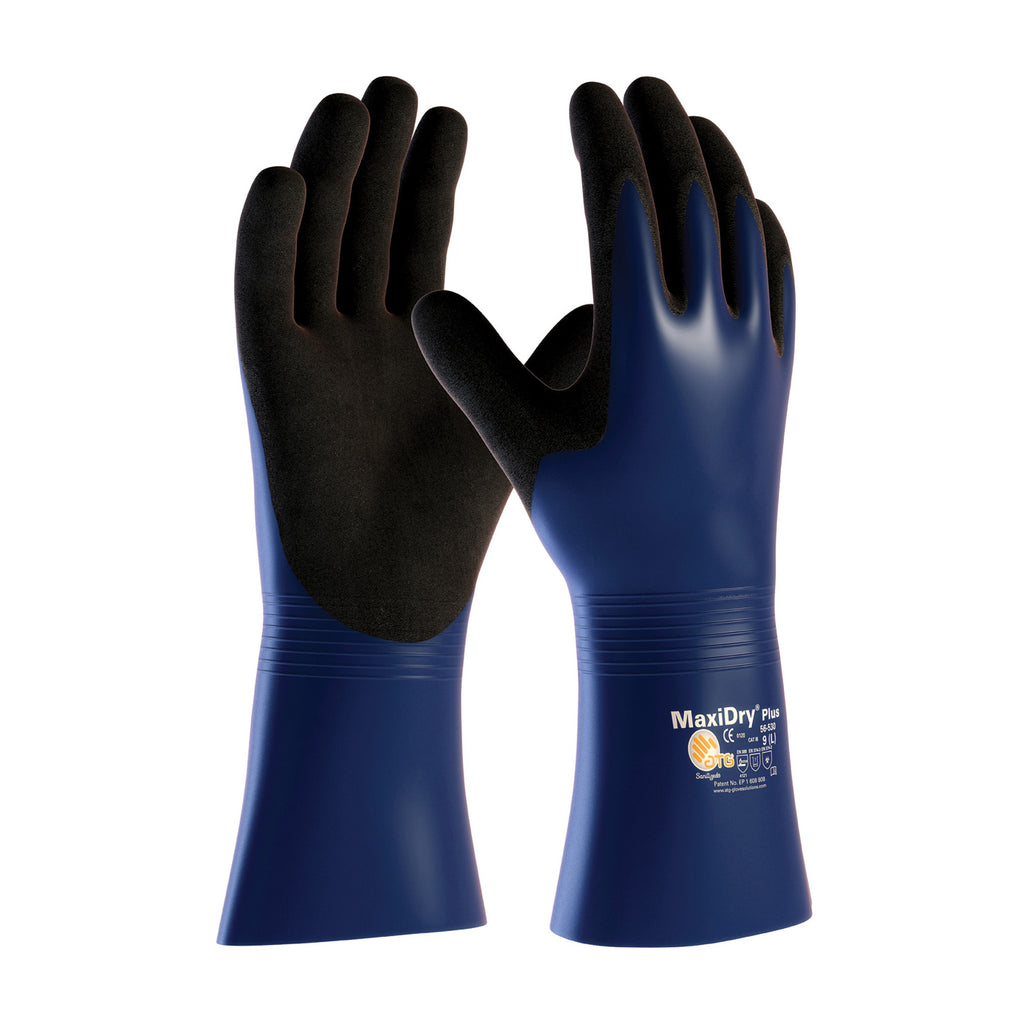 Designed and developed for those working in areas or applications that require the blend of chemical protection with cut resistance. MaxiDry® Plus™ is tested and certified according to EN 374, "low level chemical resistance" and cut level 1 (EN 388).
FEATURES
Seamless nylon liner is comfortable and flexible
Foam Nitrile coatings are compatible with light oils and will provide a good grip and excellent abrasion resistance
Gauntlet cuff for added forearm protection
Liquid Repellence - Splash resistance to chemicals is delivered through ATG's LiquiTech® technology platform
Innovative Fibers - Unique high performance yarns and fibers that offer cut protection whilst maintaining high levels of comfort
Ultra Lightweight - Synthetic coating combined with an industry leading super light seamless knit liner provides excellent comfort, sensitivity, fit and dexterity
Locking Cuff - Ensures the glove does not slip off the hand. An exclusive elasticated support in the wrist area provides a "locking" effect for a close and snug fit
Optimized Grip - The micro-cup non-slip grip finish allows for a controlled and superior grip in oily and wet applications. The nonslip grip is only applied where it is actually needed - in the palm area - to ensure flexibility isn't compromised
All ingredients used in the manufacturing and construction of this product are compliant with the REACH legislation
This glove has been laundered prior to final packaging making it clean and safe for use
The Oeko-Tex® Association has evaluated and certified this product as skin safe from the second it comes into contact with
the skin
The Skin Health Alliance has awarded professional dermatological accreditation following review of the scientific dossier behind this product
GRIP:
 

MICROFOAM

Patented micro-foam nitrile coating offers 360° breathability, making it the most breathable option on the market. An optimized grip is delivered through our micro-cup finish, designed to channel away liquids to allow better handling in wet and dirty conditions.

EN 388 is a European Standard. Cut Level is determined by the number of cycles it takes a spinning circular blade, that is pulled across the material under a constant weight of 500 grams, to cut the fabric. As the number of cycles increase, so does the glove's ratings.