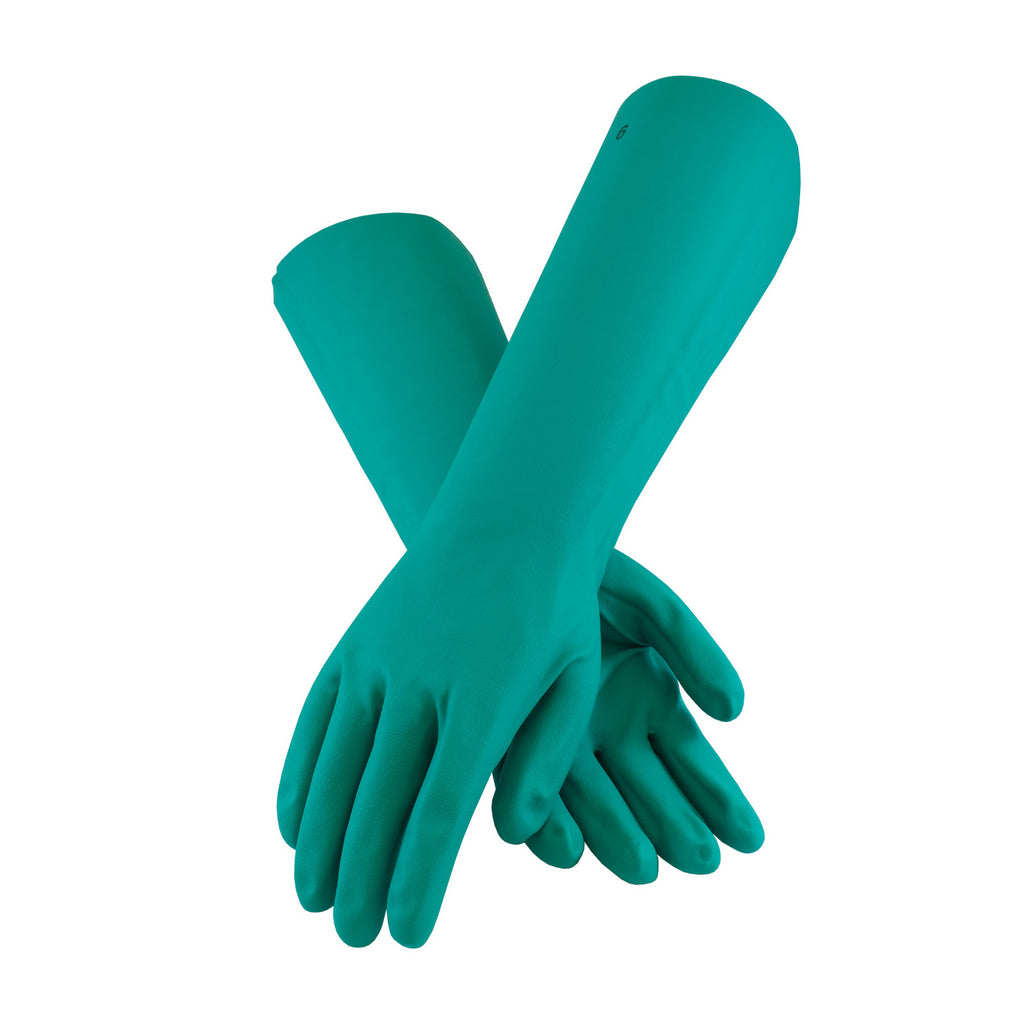 Ideal for chemical processing, oil refining and petrochemicals, food processing, aerospace and automotive degreasing, automotive assembly and painting, machining operations, metal fabrication, graphic arts and printing cleanup, furniture manufacturing and electronics.
FEATURES
Provides superior resistance to physical hazards such as cut, puncture, snag and abrasion and many chemical hazards including solvents and oil based chemicals
Unlined to reduce potential of product contamination
Straight cuff adds additional length to protect the forearm from liquid run-off
Sandpatch pattern for an enhanced grip
Chlorinated to harden and cleanse the surface of the glove
Complies with FDA food handling requirements 21 CFR, Part 177
Silicone Free
POLYMER:
 

NITRILE

Nitrile provides good resistance to hydrocarbon derivatives. It is tough and resistant to abrasion, snags and perforation. However, nitrile with a smooth finish is not recommendedin oily conditions, and avoid prolonged contact with ketones and aromatic solvents.

 
GRIP:
 

SANDPATCH

Sandpatch pattern provides an enhanced grip.
LINING:
 

UNLINED

Unlined to reduce potential of product contamination.
CHEMICAL PERMEATION
The chemical permeation of our product is measured in accordance to European Standard EN 374-3. This measures the resistance of protective gloves against chemicals and microorganisms. Part 3 of the standard determines the level of resistance to permeation by chemicals.
BREAKTHROUGH TIME (BTT)
The number of minutes from initial contact with a test chemical until it is first detected on the inside of the glove.
BREAKTHROUGH TIME - PROTECTION INDEX
Each chemical tested is classified in terms of breakthrough time (performance level 0 to 6).
To attain the EN 374 pictogram shield gloves must pass at least a Level 2 in three chemicals. The chemicals listed are the chemicals that passed for this glove. 
EN 388 is a European Standard. Cut Level is determined by the number of cycles it takes a spinning circular blade, that is pulled across the material under a constant weight of 500 grams, to cut the fabric. As the number of cycles increase, so does the glove's ratings.