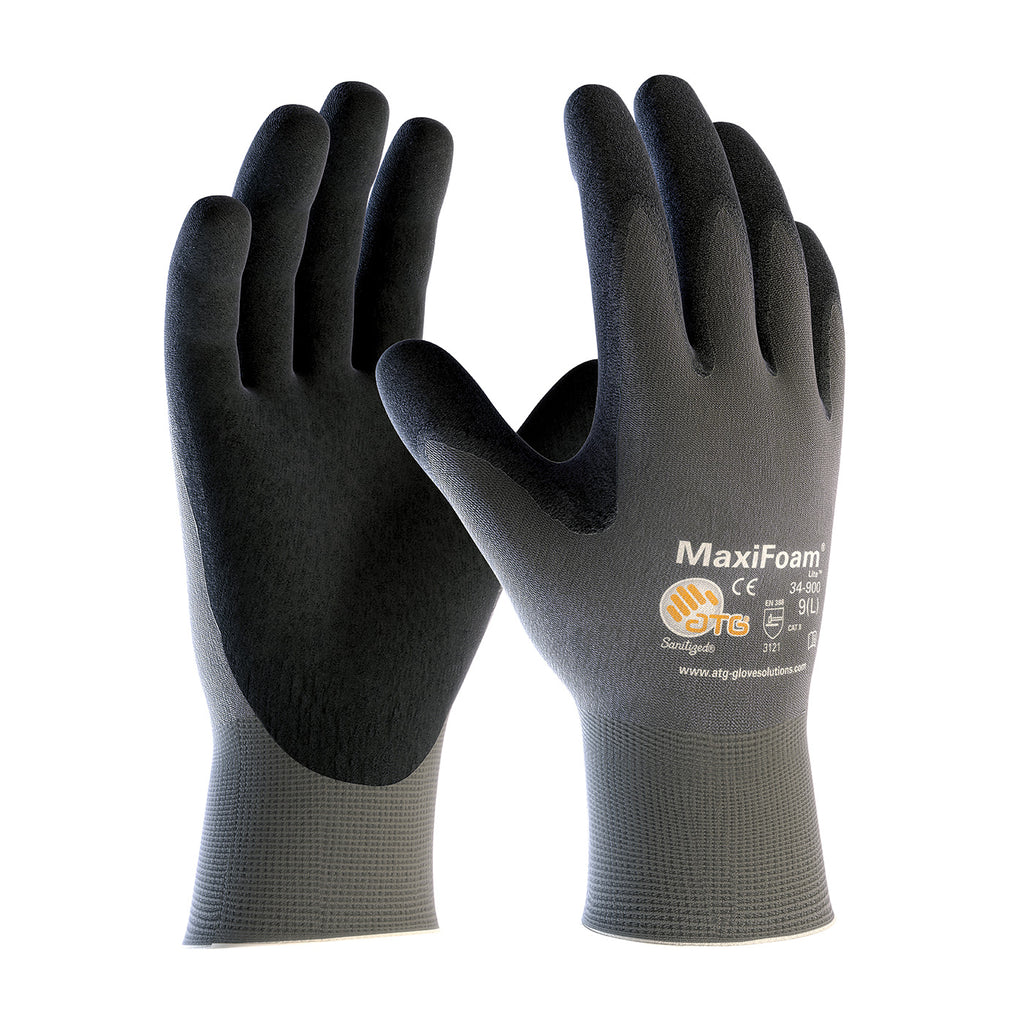 PIP 34-900 MaxiFoam Lite Seamless Knit Nylon with Nitrile Coated Foam Grip on Palm & Fingers Glove 
Product Description
Used in applications which require a high degree of dexterity and sensitivity. Ideal for handling small oily parts and components, general assembly, machining, micro-engineering, automotive components, painting, horticulture and maintenance.
FEATURES
Foam Nitrile coatings are compatible with light oils and will provide a good grip and excellent abrasion resistance
Seamless one-piece nylon shell offers increased comfort, finger dexterity and breathability
Knit Wrist helps prevent dirt and debris from entering the glove
Silicone and Latex free
Surface of the glove designed to "channel" oil away to give a better grip
Light coating gives improved flexibility and dexterity
Minimal strikethrough reduces irritation and increases comfort levels
Designed to produce minimal lint and dust
Dark color combination designed to keep the glove "cleaner" for longer
This glove has been laundered prior to final packaging making it clean and safe for use
The Oeko-Tex® Association has evaluated and certified this product as skin safe from the second it comes into contact with the skin
EN388 RESULTS:
4121AX
LINER MATERIAL:
 

NYLON

Nylon: Seamless nylon liner offers increased comfort, finger dexterity and breathability.
COATING:
 

NITRILE

Nitrile: Nitrile is a synthetic rubber compound that offers excellent puncture, tear and abrasion resistance. Nitrile is also known for its resistance to hydrocarbon-based oils or solvents. Nitrile coated gloves are the first choice for industrial jobs which require handling of oily parts. Nitrile is durable and helps to maximize protection.
GRIP:
 

MICROFOAM

MicroFoam: MicroFoam is a patented formulation of ATG's nitrile coating that allows gloves to be thinly coated for added grip, dexterity, comfort and breathability. This premium coating process assures controlled grip in dry and in slightly oily conditions as well as maximum comfort and flexibility.

CARE INSTRUCTIONS

Recommend washing gloves in tempered water not exceeding 104o F or 40o C. A mild commercial laundry soap or detergent should be used. Wash in a 5-10 minute cycle time. Rinse in cold water. Tumble dry at temperature not exceeding 104o F or 40o C.

**Sold per dozen