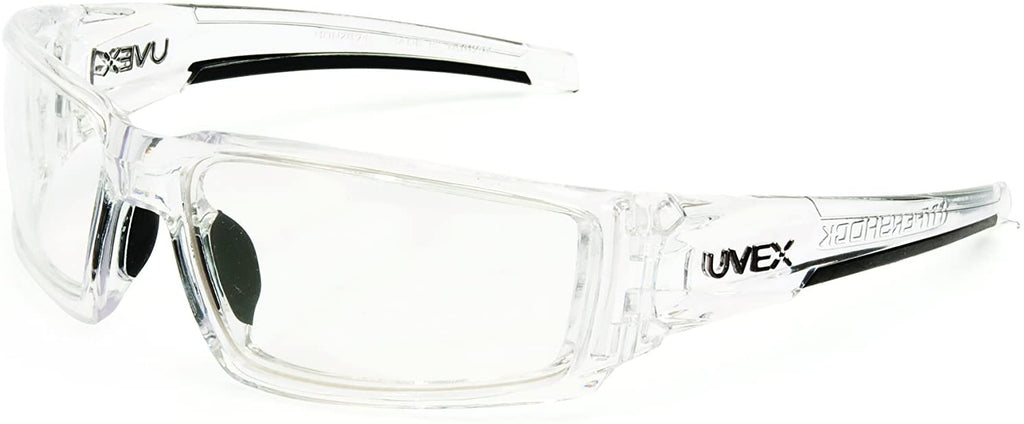 Brand: UVEX by Honeywell
Features:
LENS TINTS FOR ANY TASK: Uvex lens tint applications include sun & glare reduction, fluorescent/halogen/sodium lamp low light areas, indoor/outdoor transition, welding and traffic signal recognition
PERMANENT LENS COATINGS: Uvex lens coatings deliver long-lasting anti-fog & anti-scratch performance; permanent bonding to the lens prevents wash/wear off even after extended use or repeated cleanings
SAFETY: Full frame is lightweight but offers high-impact protection that meets ANSI Z87.1-2015 standards for safety glasses; wraparound design provides increased side protection and peripheral vision
STYLE & PERFORMANCE: Safety eyewear combines performance-driven technology with aggressive, sport-inspired styling; the sleek side profile allows ample room for hard hats or other head gear
LONGWEARING COMFORT: Protective eyewear features a molded nose piece & sleek temples with soft, molded inserts for longwearing comfort; Integrated hinge mechanism with dual cam action for secure fit
Details: Uvex Hypershock Safety Glasses are available with multiple lens tints to suit almost any work environment. Uvex stands for "Ultra Violet Excluded", which means our safety glasses employ specifically formulated resins that filter 99.9% of the UV radiation in accordance to the U6 scale of the Z87 standard. Uvex has also developed Spectrum Control Technology (SCT), which incorporates unique dyes designed to absorb select wavelengths of radiant energy (light). Our anti-glare glasses, tinted safety glasses and safety sunglasses are designed to manipulate light to reduce a spectral hazard, or to provide distinctive filtration for specific safety eyewear viewing tasks. Examples include filtering solar radiation to reduce glare, and blocking radiation from welding to protect workers around these operations. Multiple anti-fog and anti-scratch coatings are also available. The new HydroShield technology provides our best anti-fog lens coating, keeping your vision clear up to 90X longer than most other competitive anti-fog safety glasses. Models with the Uvextreme Plus anti-fog coating offer superior fog-free vision that lasts up to 10X longer than most other anti-fog coatings. Both anti-fog coatings provide 2X greater scratch resistance than most competitive anti-fog glasses. Our scratch-resistant safety glasses feature a durable hardcoat for long-lasting resistance to scuffing and scratching. Photochromic lenses offer seamless shade transitioning when moving from indoor work environments to mid-light and outdoor work areas. The full-frame design makes for strong impact-resistant glasses in accordance with ANSI Z87.1-2015 impact standards. The sport-inspired wraparound styling provides excellent side protection and peripheral vision. A molded nose piece and padded temples with molded inserts ensure your protective eyewear delivers longwearing comfort.
Binding: Tools & Home Improvement