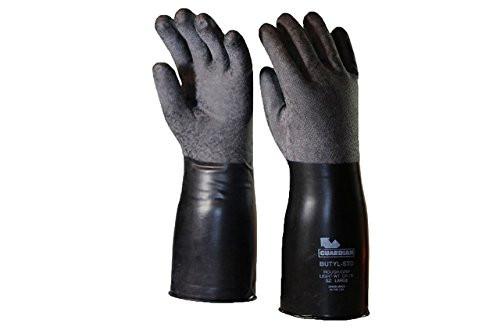 The standard Butyl short glove continues to be Guardian


Wide range of chemical protection. Butyl has the highest permeation resistance to gas and water vapor, highly resistant to ketones (MEK, MIBL, acetone) and esters (tricresyl phosphate, amyl acetate, ethyl acetate).
Curved hand design for comfortable fit and better dexterity. Offers excellent flexibility for extreme work demands with heavy chemical protection from warfare agents.
Butyl gloves resist oxidation, ozone corrosion and abrasion, and remain flexible at low temperatures.
14'' length glove for lower arm protection with 7 millimeters of thickness. Style CP-7 is manufactured according to Mil-DTL-43976, Type III providing protection from hazardous chemicals when worn with chemical protective suits and outfits. Style CP-7R is finished with a rough overdip for greater grip capability. The rough finish is not addressed in the Military Specification.
Made in the USA with unique dipping process and finest quality materials and craftsmanship for outstanding protection.